WASHINGTON (CNN) -- A Democratic Senate chairman at the heart of Capitol Hill's delicate health care negotiations announced Wednesday that he intends to unveil a long-awaited compromise reform bill from his committee next week.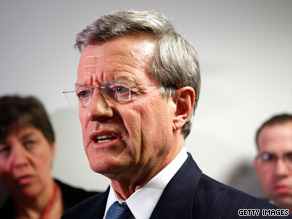 Sen. Max Baucus' plan would drop the public option provision favored by many Democrats for health care.
Sen. Max Baucus of Montana, head of the Senate Finance Committee, also told reporters he is prepared to move forward in the legislative process with or without Republican support.
"The time has come for action and we will act," Baucus told reporters. "We have a path for moving forward. This is our moment."
The Finance Committee's "Gang of Six," a group of three Democratic and three Republican senators, has been working for months to craft bipartisan health care legislation.
Baucus, who said he intends to continue working with the GOP minority, made the announcement after spending much of the morning meeting with committee Democrats. He said he expects that some Republicans will ultimately "be on board." A bipartisan bill, he later added, would be more "durable" and "sustainable" in the years ahead.

Watch as the senator says it's time to move forward »
Senate Majority Leader Harry Reid, D-Nevada, while slamming what he referred to as "lies being perpetrated" in the debate, also said Republicans remain welcome in negotiations.
GOP Sens. Olympia Snowe of Maine and Charles Grassley of Iowa, both part of the Gang of Six, indicated that Baucus' timetable won't jeopardize the chances for bipartisan compromise.
Presidential address
President Obama will address a joint session of Congress on health care. Watch live coverage of his speech.
Wednesday, 8 p.m. ET

Reaching a consensus won't be easy, because of the "complexity of the questions" involved in reform, Snowe said. But, she warned, it will "be costly if we get it wrong."
"We've been at the table for months and months," Grassley said. "I'm going to be at the table as long as we can be at the table."
However, a number of leading Democrats have been indicating for some time that they do not expect much, if any, Republican support by the end of the process. Top House Republicans reiterated Wednesday their position that health care deliberations should start over from scratch.
The White House had been pushing for an agreement on a compromise proposal in advance of President Obama's health care speech to a joint session of Congress on Wednesday night.
Obama's address will be carried live on CNN and CNN.com/Live beginning at 8 p.m. ET.

Watch as the White House press secretary offers a preview »
Don't Miss
The Finance Committee is the last of five congressional committees that need to approve health care legislation before the topic can be taken up by both the full Senate and the full House of Representatives.
Three House committees have already approved a bill, along with the Senate Health, Education, Labor and Pensions Committee.
One of the Democratic members of the Gang of Six pushed back hard earlier Wednesday against the idea of a firm deadline for passing a bill.
"This idea that there is a drop-dead day or hour is ... absolutely counterproductive to doing something that is critically important," Sen. Kent Conrad of North Dakota told a group of reporters.
Baucus had set a 10 a.m. Wednesday deadline for the negotiators to come up with counterproposals to a compromise plan he circulated Tuesday. He told reporters that, in response, he had received ideas from all of them.
Baucus' plan would, among other things, drop the public option provision favored by many Democrats, allow for the creation of nonprofit health care cooperatives, and tax insurance companies that provide the most expensive health insurance plans.
As with other reform proposals, it would would bar insurance companies from dropping a policyholder in the event of illness, add protections for people with pre-existing conditions and establish tax credits to help low- and middle-income families purchase insurance coverage, according to a source close to the negotiations. The plan also would create health insurance exchanges to make it easier for small groups and individuals to buy insurance.
It proposes new fees intended to generate $6 billion from health insurance companies and $4 billion a year from the medical-device manufacturing sector starting in 2010, along with additional money from drug makers and clinical laboratories.
Under the proposal, health insurance would be mandatory for all Americans, and those lacking coverage could be fined, with a maximum penalty of $3,800 for families making more than 300 percent above the poverty line.
Considered part of a last-ditch effort to secure Republican votes for a health care bill, the compromise proposal received a lukewarm reception from Grassley.
Grassley criticized the proposed tax on expensive health insurance policies, saying it would likely be passed on to consumers in the form of higher premiums and therefore drive up the cost of insurance. However, he indicated he could support the idea of nonprofit health insurance cooperatives so long as the federal government had no role in operating them.
In addition, a source close to Grassley, who asked not to be identified because the negotiations are private, said the senator wants the bill to be less expensive than the estimated $880 billion price.
Baucus said Tuesday that he hoped to know before Obama's speech Wednesday night whether he can strike a deal with Grassley and the other participating Republicans, Snowe and Sen. Mike Enzi of Wyoming.
White House and Democratic leadership sources have said for some time they do not think Grassley and Enzi will sign on to a compromise bill.
Snowe and the White House have, however, been discussing a "trigger" provision that would mandate creation of a public health insurance option in the future if specific thresholds for expanded coverage and other changes were not met.
Snowe said Wednesday she first raised the idea with Obama in March, and confirmed that she has been discussing the plan in recent weeks with White House officials.

"It's a standby," she said. "Whether that will be a preferred alternative remains to be seen."
Support by Snowe would improve the chances of the Senate's Democratic majority to gather the 60 votes necessary to overcome a possible Republican filibuster against a health care bill.
E-mail to a friend

CNN's Dana Bash and Ted Barrett contributed to this report.
All About Max Baucus • Health Care Policy • Barack Obama