By Ed Hornick
CNN






WASHINGTON (CNN) -- As Congress prepares to come back from its August recess and tackle health care reform, the question arises whether lawmakers will do something in honor of the "Lion of the Senate" -- or should Congress simply start over?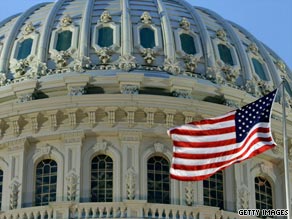 Congress will return this fall to deliberate on the hot-button issue of health care reform.
Democratic Sen. Ted Kennedy, who died last week, was a staunch advocate of health care reform.
Following his burial over the weekend, Democratic lawmakers said they hoped Kennedy's memory will inspire legislators to start looking for compromise on stalled reform plans.
One of Kennedy's best friends in the Senate, Chris Dodd of Connecticut, urged legislators to bring civility to health care negotiations.
"Put behind us the blistering days of August, enter the cool days of September, and start acting like senators again," Dodd said Sunday on NBC's "Meet the Press. "Where you respect each other. There are differences. You bring that partisanship to the table but you want to work out your differences."
Sen. John Kerry, now the senior senator from Massachusetts, said Democrats should follow Kennedy's legacy of bipartisan compromise.

Watch more on the call for health care reform »
"I hope it means that people will step back, take a deep breath and try to figure out how we can have a good open discussion and get away from politics," said Kerry.
Asked about the contentious public insurance option, which is one of the sticking points, Kerry said that if Kennedy were alive, he would "fight for it" and would do "everything in his power to get it."
"But if he didn't see the ability to be able to get it done, he would not throw the baby out with the bathwater," Kerry said on ABC's "This Week."
Republican Sen. Orrin Hatch -- a close friend of Kennedy's -- said Kennedy's absence will be felt as major issues such as cost continue to divide both parties and Congress.
But one Republican is touting a new plan.
Former Sen. Bob Dole of Kansas proposes that Congress start over on a health care reform bill once members return.
"After 35 years in Congress, I know there are times when a fresh start is advisable," Dole wrote in an op-ed in Monday's Washington Post.

Watch more on the GOP's health care concerns »
Dole -- who is part of the Bipartisan Policy Center, a group searching for common ground on health care and other issues -- champions the idea that President Obama should take control of health care reform and Congress merely dispose.
"Today, Congress is doing both -- with the president relegated to the role of cheerleader in chief as he campaigns for various House committees' efforts," Dole wrote. "Certainly, Obama supports much in these proposals -- but Barack Obama is our president, not a commentator."
Dole said the president's approval numbers would jump 10 points if Americans knew he was in charge -- not Congress.
A recent CNN/Opinion Research Corp. poll showed that Obama's overall approval rating was around 56 percent, down from 61 percent in June and 66 percent in April. The poll, taken July 31 to August 3, had a margin of error of plus or minus 3 percentage points.
"The president, Congress and the public are choking on all this, and choking is not covered by the legislation," he wrote, adding: "A bipartisan ending will have more credibility with the American people. Indeed, most important legislation in U.S. history has had broad bipartisan support."
But the Democrats might have some leverage if they decide to push forward with a partisan bill.
While the Democratic Party is becoming less popular, the Republican Party has not been able to capitalize on that, a CNN/Opinion Research Corp. poll found.
"By a 10-point margin, Americans say that the country would be better off if the Democrats controlled Congress," said CNN polling director Keating Holland. "That's down from a 15-point advantage in April, but it is very important to note that the change has not helped the Republicans at all."
In April, only 34 percent said the country would be better off if the GOP ran Congress. As of August, that number was exactly the same.
The poll had a margin of error of plus or minus three percentage points.
A Democratic former senator, however, said that despite his party's control over Congress, bipartisanship is essential -- and could still happen.
"The [health care] debate is beginning to sound more and more like the politics President Obama decried in his campaign -- partisan, mean and progress-free. It needn't be that way," wrote former Sen. Bill Bradley, D-New Jersey, in an op-ed in the New York Times on Saturday. "Because I believe such a grand bipartisan compromise is still possible with health care."
He added that the August recess has allowed both Democrats and Republicans the opportunity to meet with constituents and delve deeper into the issue.

Bradley said a successful health care bill should combine universal coverage, including a public option plan, with malpractice tort reform in health care.
His hope, Bradley said, is that "Congress will surprise everyone this fall."
E-mail to a friend

All About Health Care Costs • U.S. Congress