By Gloria Borger
CNN Senior Political Analyst






Gloria Borger is a senior political analyst for CNN, appearing regularly on CNN's "The Situation Room," "Campbell Brown," "AC360°" and "State of the Union With John King," as well as special event coverage.
WASHINGTON (CNN) -- No matter which way you look at it, the question is painfully difficult: What -- if anything -- do we do about the post 9/11 behavior of some CIA agents who worked feverishly to interrogate prisoners they believed had information that could save American lives?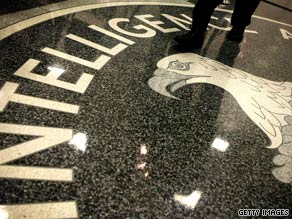 The Central Intelligence Agency is under fire for harsh interrogation techniques used after 9/11.
First, we now know definitively what we always suspected -- that agent actions were sometimes abusive, perhaps even illegal, as they tried to obtain information.
The just-released Justice Department report shows, among other things, that agents choked one detainee repeatedly and threatened to kill another prisoner's children. Not pretty stuff.
But here's what we also know, thanks to another report (purposefully) released by the CIA as a response to the Justice document: Some interrogations worked.
According to these agency reports, chronicling 2004 and 2005, the intelligence community gleaned valuable information in real-time -- like tracking down a terrorist network and securing key information from the notorious Khalid Shaikh Mohammed, the 9/11 mastermind.
The CIA's message is clear: Whatever we did helped us get what we needed to save lives. So get off our backs and let us do our jobs.
But here's the catch, and it's what complicates all of this: The CIA report does not draw a straight line between any specific interrogation methods and success. Indeed, the report says the "effectiveness" of any particular interrogation technique in gaining star-quality information "cannot be so easily measured."
That is an understatement.
Don't Miss
So it's easy to see why the president, who doesn't need another political headache, was happy to toss the hot potato over to Attorney General Eric Holder for review. Holder is independent, the president reminded us. He is supposed to make decisions about whether to prosecute criminal cases without the president. That notion could provide a smidgeon of political cover, but it looks like it won't be enough.
First, Holder did the president no favors when he named a veteran prosecutor to look into the abuse of prisoners held by the CIA. After all, what happened to the president's view that the country needs to turn the page on George W. Bush's policies, and move on?
What's more, it's not exactly a move that's going to be applauded at the CIA -- and could actually undercut the intelligence agency's ability to do its real work.
Granted, Holder rightly stated that it's his job to "follow the law." The problem for the administration is that it's the president's job to lead -- forward, not backward. And now that Holder has asked a career prosecutor to examine the CIA interrogations, it's possible he could get a recommendation for criminal prosecutions for CIA agents.
That might please liberals, but that's about it. And today, former Vice President Dick Cheney made it clear where he stands (as if we didn't know). "These people deserve our gratitude," he said. "They do not deserve to be the targets of political investigations or prosecutions."
So now the president is looking at the prospect of landing exactly where he does not want to be on the matter of torture -- in a political brawl over Bush administration interrogation policies. And what makes it all worse is that the American public agreed with Obama when he called for the country to move on.
A CNN poll taken in May made it very clear that most Americans are not interested in an investigation of those who authorized harsh interrogation techniques post 9/11.
And when it comes to the agents in the field who used the procedures, 64 percent of Americans said leave them alone.
Going forward, there's going to continue to be a much-needed debate over torture. What, exactly, is it? If water boarding is torture, as president Obama says, does verbal abuse count? And when the nation is under attack, is it okay for the rules to change? What does that do to our reputation as a nation?
But now it looks like there's going to be another debate looking backward, too -- over whether the men and women who were trying to protect America from another attack went too far.
Maybe it's a debate that, as a nation, we need to have to have. But criminalizing their work as they work to protect us now is a treacherous road.
The opinions expressed in this commentary are solely those of Gloria Borger.
E-mail to a friend

All About U.S. Department of Justice • Barack Obama • Central Intelligence Agency