By Ruben Navarrette Jr.
Special to CNN






Editor's note: Ruben Navarrette Jr., a nationally syndicated columnist and a regular contributor to CNN.com, is the author of "A Darker Shade of Crimson: Odyssey of a Harvard Chicano." Read his column here.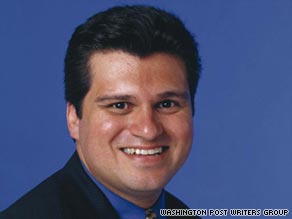 Ruben Navarrette Jr. says the GOP has been schizophrenic on Hispanic political participation.
SAN DIEGO, California (CNN) -- David Iglesias, the former U.S. attorney for New Mexico, is a cautionary tale for young Hispanics who think the road to political power leads through the Republican Party.
If so, it's a road with a lot of potholes.
Iglesias went from the GOP's golden boy to its whipping boy -- all during one administration. When the former Navy lawyer was appointed by President George W. Bush, Iglesias was thought to be a symbol of Republican inclusiveness and someone who might help lure Hispanic voters to the party.
But by the time Iglesias was fired -- in December 2006, along with eight other U.S. attorneys -- he had become a symbol of something else: how schizophrenic Republicans are on the issue of Hispanic political participation.
If Hispanics turning out to vote helps the GOP, Republicans are all for it. If not, they're against it. Iglesias learned that the hard way.
This week, with the release of thousands of e-mails and transcripts of closed-door testimony, we see the fingerprints of Bush's key political aide, Karl Rove. Harriet Miers, who was White House counsel at the time, told the House Judiciary Committee that Rove was "very agitated" over Iglesias "and wanted something done about it."
'Latino in America'
The Latino population is set to nearly triple by 2050. This October, Soledad O'Brien journeys into the homes and hearts of a group destined to change the U.S. Witness the evolution of a country as Latinos change America and America changes Latinos.
Coming this October

According to the documents, Rove was "agitated" because Republican lawmakers in New Mexico -- namely, Sen. Pete Domenici and Rep. Heather Wilson -- were complaining that Iglesias wasn't investigating allegations of voter fraud and pursuing corruption indictments against Democratic officials. The GOP's targets included New Mexico Attorney General Patricia Madrid who ran against Wilson unsuccessfully in 2006.
Miers told the committee that Rove informed her of complaints about Iglesias from political figures in New Mexico but that she couldn't recall whether Rove told her specifically that the federal prosecutor should be fired.
With such a selective memory, it's just as well that Miers didn't wind up on the Supreme Court.
That Rove was so heavily involved in this scandal should not surprise many, but it does make it more difficult for the Bush loyalists to continue to argue that the firings weren't politically motivated.
Of course they were. The complaints about Iglesias were political in nature, and Rove was the chief political adviser in the White House. According to what Iglesias told the House and Senate Judiciary Committees, Domenici and Wilson called him numerous times to try to pressure him to prosecute voter fraud and public corruption cases, and Domenici also called Attorney General Alberto Gonzales to complain about Iglesias.
The lawmakers should have stayed in their sandbox and let the executive branch run itself.
Besides, in 2007, as the scandal unfolded, McClatchy Newspapers reported that New Mexico Republican Party Chairman Allen Weh had asked an official who worked for Rove that Iglesias be removed. Weh said he later took up the matter with Rove directly.
A White House spokeswoman said at the time that Rove "may have had a casual conversation" with Gonzales about how some Republicans in New Mexico were complaining about Iglesias.
Now, it turns out that Rove's involvement was more than just "casual."
But so what? These aren't civil service positions. U.S. attorneys serve at the pleasure of the president, and the president can remove them any time for just about any reason. The problem here is a U.S. attorney should be able to make his or her own determinations about what cases to file and what causes to pursue without having political operatives breathing down their necks. Iglesias wasn't left alone to do that.
Why not? It's because New Mexico isn't Iowa or Maine or North Dakota. In a state like New Mexico, with a significant Hispanic population, concerns about "voter fraud" are really a proxy for something else: anxiety over changing demographics fueled by illegal immigration.
Don't Miss
When someone says they're worried about voter fraud, you know they're talking about the possibility of illegal immigrants going to the polls. And since most illegal immigrants happen to be Hispanic, the issue comes with built-in and not-so-subtle ethnic overtones.
And that's what makes Rove's involvement in this imbroglio so interesting -- and so ironic. You see, Rove figured out early on that Republicans needed Hispanic support to win elections and he helped shepherd George W. Bush's impressive inroads into the Hispanic community. Bush got 35 percent of the Hispanic vote in the 2000 presidential election, and a staggering 44 percent in 2004. A lot of that was due to Rove.
Then here comes New Mexico and Rove is carrying water for a pair of knucklehead Republicans -- Domenici and Wilson -- who, it appears, would just as soon try to suppress the Hispanic vote as compete for it.
That's not a good look for the White House political strategist. Karl, que paso?
The Republicans in New Mexico were clearly terrified about a surge in Hispanic voting power and how it could lead to countless defeats for the GOP in future elections. That's because most Hispanics vote Democratic, and -- thanks to shenanigans like this -- you can see why.
The opinions expressed in this commentary are solely those of Ruben Navarrette Jr.
E-mail to a friend

All About Republican Party • Karl Rove • Hispanic and Latino Issues