WASHINGTON (CNN) -- The U.S. economy is no longer on the edge of collapse, but Americans face tough choices in reducing the national deficit, Treasury Secretary Timothy Geithner said Sunday.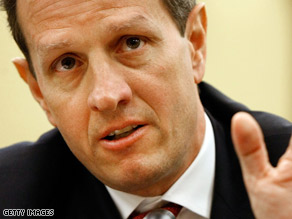 U.S. Treasury Secretary Tim Geithner said Americans must have the will to help bring the deficit down.
His assessment following a week of upbeat economic indicators was echoed by former Federal Reserve Chairman Alan Greenspan and others, but Republican critics countered the country was mortgaging its future economic stability.
Geithner said he expected continued economic improvement for the rest of 2009 and a reversal in job losses the following year.
"What you're going to see first is growth turn positive," he said on the ABC program "This Week."
Then the pace of job losses would slow, with job creation possible next year, Geithner said.
In the meantime, he said, the government will consider extending unemployment benefits that will run out soon for more than a million Americans.
Both Geithner and Greenspan, appearing on the same show, insisted that the economy would not collapse. They said, however, that emergency steps, including the bailout plan last year and the economic stimulus bill this year, are expanding the federal budget deficit to unsustainable levels.
"We will not get this economy back on track, recovery will be not strong and sustained, unless we ... can convince the American people that we're going to have the will to bring these deficits down once recovery is firmly established," Geithner said.
Geithner refused to rule out future tax increases, saying President Barack Obama's administration would take whatever steps were necessary to reduce the deficit once the economy recovers. Greenspan said he believed the government eventually will impose some kind of value-added tax to raise revenue.
Don't Miss
A value-added tax is assessed on the transfer of goods and services from production to delivery, with consumers ultimately paying higher prices. It differs from a sales tax, which is directly assessed on consumers when they buy something.
Greenspan called a value-added tax "the least worst solution," saying it "the only thing that raises revenue in significant quantities without significantly impacting the economy."
However, Republican Rep. Mike Pence of Indiana refused to credit government policies for the encouraging economic signals, saying progress has happened "in spite of the prescriptions of Washington."
"I think what we're seeing in the economy now is the inherent resilience of the American economy and the American people," Pence said on "Fox News Sunday." "What I'm saying is that this piecemeal approach -- government handouts through a government bureaucracy -- is no substitute for broad-based tax relief and fiscal discipline in Washington."
Republican Sen. John McCain of Arizona, who lost to Obama in last year's presidential election, conceded that the $787 billion stimulus package had helped, maintained it was at too high a cost.
"I think it's very clear that the stimulus has had some effect," McCain said on CNN's "State of the Union." "But, what I worry more than anything about is the long-term effects."
"We have put trillions of additional debt on future generations of Americans," he said, adding: "The long-term consequences, I think, are going to be, unfortunately, devastating unless we do something about it."
One issue -- the "cash for clunkers" provision in the stimulus package -- highlighted differences in the party's perspectives.
The program, which provides payments of up to $4,500 for people who trade in gas-guzzling older vehicles for newer models with better fuel efficiency, is in danger of running out of money three months early because too many people rushed to take advantage of it.
National Economic Council Director Lawrence Summers hailed the program as "far more successful than people expected," in terms of car sales generated and environmental benefits.
But Republican Sen. Jim DeMint of South Carolina said on "Fox News Sunday" it was a matter of short-term gain for long-term pain.
"I just think this is a great example of the stupidity that's coming out of Washington right now, and I think Americans realize the numbers that we're throwing around don't work," DeMint said. "We estimated this would cost $1 billion. Now they're saying we need $2 billion more. Our children and grandchildren can't afford to make these car dealers well right now."
On another issue of sharp divide -- overhauling the health-care system -- Geithner and Summers said it was necessary to halt spiraling costs that will greatly expand future deficits.
"The first and most important thing in getting the federal deficit under control is substantial reform of the health care system," Summers said.
Republicans oppose all three Democratic health care proposals voted out of congressional committees so far.
Democratic and Republican members of the Senate Finance Committee are negotiating a compromise plan that would be the first bipartisan bill so far. The main debate is over a government-funded public option favored by Obama and Democrats, but opposed by Republicans.
Democrats say the public option would provide needed competition to more expensive private health insurers, while Republicans call it a first step toward the government taking over the health care system.
The Senate Finance negotiators are considering a provision to set up nonprofit health care cooperatives that would allow members to negotiate collective coverage plans as an alternative to a public option.
McCain said Sunday he didn't like any of the ideas so far.
"The co-ops remind us all of Fannie Mae and Freddie Mac," he said, referring to the mortgage finance giants taken over by the government last year during the economic crisis. "And so I have not seen a public option that, in my view, meets the test of what would really not eventually lead to a government takeover."
Geithner, however, said all parties must recognize the need for what he called "a big, consequential reform" of health care.

"Ideally, you want to do this with as broad a base of consensus as possible," he said.
"But people on the Hill are going to have to make that choice. Do they want to help shape this and be part of it, or do they want this country, the United States of America, to go another several decades without doing what every other serious country has done, which is to give their citizens access to basic quality care?"
E-mail to a friend

All About U.S. National Economy • Timothy Geithner • Federal Budget