WASHINGTON (CNN) -- President Obama tried Tuesday to alleviate senior citizens' concerns about health care reform, saying his plan will maintain Medicare benefits and allow people to keep the coverage and doctors they now have.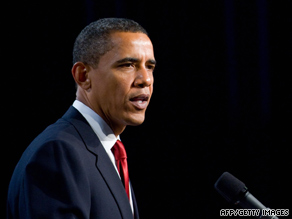 President Obama says the current health care system is broken and needs immediate changes.
At a town hall teleconference organized by AARP, the nation's largest senior-citizen advocacy group, Obama said the goal of reform is to end waste and inefficiency in a system that provides poor value and threatens to drain the federal budget.
"The more we can reduce those unnecessary costs in health care, the more money we have to provide people with the necessary care," Obama said. "This is pretty straightforward, it's pretty logical."
He compared the concept to insulating a house to reduce heating bills, noting that it will still be warm inside without "wasting money by sending it to the electric company."
"You're still going to be healthy; you're just going to be saving some money," Obama said.
Questions from people in the audience and via telephone from around the country focused on concerns that Medicare benefits would be cut or people would be denied coverage based on government decisions.

Learn more about the health care debate »
Obama repeatedly insisted his plan would improve the value of spending on Medicare, so that the quality of coverage would remain the same while the cost would go down. Insurance companies also would no longer be able to deny coverage for pre-existing conditions, he said.
Don't Miss
"Nobody is talking about trying to change Medicare benefits," he said. "What we do want is to eliminate some of the waste that is being paid for out of the Medicare trust fund."
He cited $177 billion of what he called government subsidies paid to insurance companies participating in Medicare Advantage, an enhanced Medicare benefits program.
Making health insurers compete to participate in Medicare Advantage, rather than paying them do so, is one way to cut costs and improve benefits, the president said.
"If you've got health care, the only thing we're going to do is we're going to reform the insurance companies so that they can't cheat you," he said.
Republican opponents, and some Democrats, say the Democratic reform plan being pushed by Obama would cost too much and expand the government's role in health care without providing long-term stability.
"You cannot add millions of new baby boomers now retiring to the Medicare rolls and at the same time cut Medicare by $500 billion ... without cutting their benefits," Sen. Jon Kyl, R-Arizona, said Tuesday.
Obama rejected such criticism, noting the current system is broken and needs immediate changes to prevent even greater problems within a decade.
He said that Tuesday was the 44th anniversary of when Congress passed the first Medicare bill. The debate back then was the same as today, Obama said, with reform opponents saying Medicare would lead to government rationing of benefits.
"I know there are folks who will oppose any kind of reform because they profit from the way the system is right now," Obama said. "They'll run all kinds of ads to make people scared."

Obama noted that the United States spends $6,000 more per person on health care each year than other industrialized nations, such as Denmark, but the American people are no healthier.
"We shouldn't be paying 50 percent more, 75 percent more than other countries that are just as healthy or healthier than we are," he said.
E-mail to a friend

All About Medicare • Health Care Policy • Barack Obama