WASHINGTON (CNN) -- After more than six hours of negotiations among White House Chief of Staff Rahm Emanuel, talks between House Democratic leaders and key Blue Dog Democrats broke up Tuesday night without a deal on health-care reform.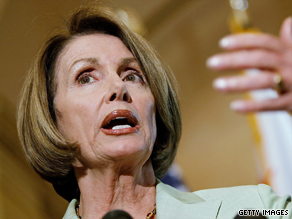 Talks in House Speaker Nancy Pelosi's office Tuesday night end without a deal on helath care reform.
All parties to the talks stuck to the same mantra as they emerged from House Speaker Nancy Pelosi's office: "We're making progress."
"We're continuing to talk," House Majority Leader Steny Hoyrer told reporters, adding "I think everybody wants to get a little bit of shut-eye."
The conservative Blue Dogs argue that the health care bill will cost too much without fixing the ailing health care system.
Pelosi, whose voice appeared hoarse, left her office, saying "We're still working, still talking, making good progress."
Rep. Mike Ross, D-Arkansas, one of the leading Blue Dogs negotiating with House leaders and House Energy and Commerce Committee Chairman Henry Waxman, D-California, told reporters there is no deal.
"All I can tell you is we continue to talk. I'd like to think that we're making progress. We expect the talks will continue tomorrow," he said.
Ross declined to answer any questions about which specific issues were on the table or how leaders were responding to their suggested changes.
Meanwhile, on the Senate side, six members of the Finance Committee -- three Democrats and three Republicans -- continued grueling negotiations on a compromise plan that would be the first bipartisan proposal so far.
The roles of the Blue Dogs and the Senate negotiators could determine whether President Obama achieves his domestic priority by coaxing Congress to pass a health care reform bill by the end of the year.
So far, the two groups have forced Democratic leaders to delay plans for each chamber to vote on a bill before the upcoming August recess.
Senate Majority Leader Harry Reid of Nevada said last week the Finance Committee negotiators needed more time to complete their compromise agreement, while House Majority Leader Steny Hoyer of Maryland said Monday that a vote won't happen by the end of the week, when the chamber is scheduled to break until after Labor Day.
Obama had called for both chambers to pass bills before the break, but now says he is satisfied that progress is being made.
Two House committees have passed a bill drafted by Democrats, but a third -- the Energy and Commerce Committee -- has been delayed by cost concerns raised by the Blue Dogs, who hold enough seats on the panel to block passage of the measure.
Blue Dog leaders received an offer Monday night from Waxman, based on their list of 10 items they want changed in the House bill. Blue Dog leaders said they needed time to review the offer, while Waxman said he expected their response Tuesday.
Waxman and the Blue Dogs agreed last week on creating an independent panel of health-care experts to review the Medicare reimbursement system with an eye toward cutting costs. The nonpartisan Congressional Budget Office, however, said that provision is unlikely to bring significant savings.
A separate budget office report said a government-funded public option for health insurance backed by Obama and House Democratic leaders would increase the number of people receiving employer-provided coverage. Republican opponents of the public option contend it would wipe out private competitors, amounting to a government takeover of health care.
The budget office, however, found that a health care reform bill that includes a public option sought by Democrats would result in 3 million more people enrolled in employer-sponsored coverage by 2016, compared with what would happen under current laws. The report, responding to questions from Rep. Dave Camp, a Michigan Republican, was not a final review, the office said.
"We've heard that the reform would represent a government takeover of health care," Hoyer said. "In point of fact, exactly the opposite is true."
White House spokesman Robert Gibbs also complained of Republican misinformation, saying Tuesday that "I think there are people that have knowingly spread information, inaccurate information, to hold up progress on health reform."
However, a leading House Republican, Rep. Eric Cantor of Virginia, said Tuesday that a government-funded health insurance program would have an unfair competitive advantage over private insurers.
"The reality of what President Obama is proposing is putting the government in competition with those in the private sector," Cantor said. "Employers, one after the other, have said, if you do that, there will be no other option than for us to shed our health care and allow all of our employees to go into the government plan."
The House bill includes Democratic proposals for a public option, mandates that people be insured and that employers provide coverage, and eliminates a pre-existing condition as a reason to withhold coverage.
Republicans oppose a government-funded option and any requirement for employers to provide coverage. They also call for limits on medical malpractice lawsuits, which Democrats don't favor. But the parties agree on a number of provisions, including increased efficiency in Medicare and Medicaid and a focus on preventive health programs.
The Congressional Budget Office previously predicted the House bill would cost more than $1 trillion over 10 years, and end up increasing the federal deficit by $239 billion in that period. Supporters of the bill contend the office's analysis failed to factor in all spending cuts, such as reduced costs because of preventive care programs.
Once each chamber passes a bill, a conference committee will work to merge the two measures into a single proposal that would have to win approval from both houses before going to Obama. The president wants a bill on his desk this year to take advantage of the momentum of his new administration and avoid the thornier political climate of midterm congressional elections in 2010.
On the Senate side, the process is waiting for a result from the Finance Committee negotiations.
In a major break from the House bill, the negotiators have so far rejected a public insurance option. Instead, Democratic Sen. Kent Conrad of North Dakota has proposed creating health insurance cooperatives that could arrange collective coverage for members. Conrad says such nonprofit cooperatives would provide competition for private insurers while avoiding the Republican concern of government-funded programs monopolizing the health insurance market.
Conrad said Tuesday that analysts believe such cooperatives would eventually have 12 million members, making them the third largest source of health insurance in the country, with a start-up cost of $6 billion.
Republican Sen. Olympia Snowe of Maine calls the cooperative idea an important provision, adding she believes "it's going to remain in the final document."
It was unclear if Obama and the Democratic leadership would accept the cooperatives in place of a public option. Obama has said he's open to any ideas that expand access to health-care coverage while keeping down costs, while some Democratic senators said they won't back down from demanding a full government-funded public option.

Asked Tuesday about the plan, Reid said he had to be pragmatic about a bill's chances for success.
"I have a responsibility to get a bill on the Senate floor that will get 60 votes, so we can proceed to it," Reid said. "That's my No. 1 responsibility, and there are times when I have to set aside my personal preferences for the good of the Senate and, I think, the country."
E-mail to a friend

CNN's Dana Bash and Deirdre Walsh contributed to this story.
All About Medicare • Health Care Policy • Barack Obama • Nancy Pelosi