WASHINGTON (CNN) -- House Democratic leaders conceded Monday that concerns raised by fiscally conservative Democrats will prevent the chamber from voting on a health care reform bill before the end of the week, when it is scheduled to begin its August recess.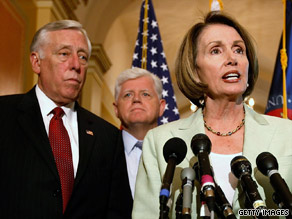 Majority Leader Steny Hoyer, left, Rep. John Larson and Speaker Nancy Pelosi address the news media Monday.
"We would have like to have passed a bill through the House by Friday," House Majority Leader Steny Hoyer of Maryland said after meeting with the conservatives, known as "Blue Dogs."
"That clearly will not be possible at this point in time."
The Democratic leadership didn't rule out the possibility of staying past Friday.
But House Speaker Nancy Pelosi of California, who previously predicted the bill would win approval before the August break, softened her timetable for a vote.
"We're on schedule to either do it now or do it whenever," she said.
Pelosi said House members need more time to complete the bill and review it while waiting for some sign of what the Senate will do on the issue.
Senate Democratic leaders already have said they will not have a bill ready before the upcoming recess. President Obama had called for both chambers to pass bills before the break, but now says he is satisfied that progress is occurring.

Watch report on divided Democrats from CNN's Dana Bash »
Two House committees have passed the bill drafted by Democrats, but a third -- the Energy and Commerce Committee -- has been delayed by cost concerns raised by the Blue Dogs, who hold enough seats on the panel to block passage of the measure.
Blue Dog leaders said Monday night that Energy and Commerce Chairman Henry Waxman, D-California, made an offer to them based on their list of 10 items they want changed in the health care bill. Blue Dog leaders said they needed time to review the offer, but both sides declined to reveal specifics.
Rep. Mike Ross, D-Arkansas, the leading Blue Dog negotiator, said the group of seven conservatives on the committee had three options they were considering: to accept, counter or "simply keep talking."
Waxman said he expected a Blue Dog response Tuesday.
Pelosi said the Energy and Commerce Committee would proceed with its debate on the bill, and a committee spokeswoman told CNN that the panel would begin its work this week. Asked about a specific day, the spokeswoman would say only that Waxman was "optimistic" that the panel could complete its work on the measure before Friday.
Waxman and Blue Dog Democrats agreed last week on creating an independent panel of health care experts to review the Medicare reimbursement system with an eye toward cutting costs. The nonpartisan Congressional Budget Office, however, said that provision is unlikely to bring significant savings.
On Monday, the CBO brought some good news to Democrats with a separate report that showed a government-funded public option for health insurance backed by Pelosi and Obama would increase the number of people receiving employer-provided coverage. Republican opponents of the public option contend it would wipe out private competitors, amounting to a government takeover of health care.
Pelosi and Hoyer said at a news conference the report showed that Republicans were spreading misinformation about the House bill.
"We've heard that the reform would represent a government takeover of health care," Hoyer said. "In point of fact, exactly the opposite is true."
The CBO report found that a health care reform bill that includes a public option sought by Democrats would result in 3 million more people enrolled in employer-sponsored coverage by 2016, compared with what would happen under current laws. The report, responding to questions from Rep. Dave Camp, R-Michigan, was not a final review, the office said.
Hoyer said the Republican claim that a public option would reduce health insurance choices also is wrong, according to the budget office analysis.
"Republicans are making ridiculous claims, frankly, about reform because they know that the status quo cannot be defended," Hoyer said.
However, a leading House Republican, Rep. Eric Cantor of Virginia, told CNN on Monday that a government-funded health insurance program would have a competitive advantage over private insurers.
"I don't think anybody believes that you can have the government compete with the private sector," Cantor said. "There just can't be an even playing field."
The House bill includes Democratic proposals for a public option, mandates for people to be insured and for employers to provide coverage, and an end to lack of coverage because of a pre-existing condition.
Republicans oppose a government-funded option and any requirement for employers to provide coverage. They also call for limits on medical malpractice lawsuits, which Democrats don't favor, along with a number of provisions contained in the Democratic bills, including increased efficiency in Medicare and Medicaid and a focus on preventive health programs.

Compare plans and see the sticking points in the health care debate »
The CBO previously predicted the House bill would cost more than $1 trillion over 10 years, and end up increasing the federal deficit by $239 billion in that period. Supporters of the bill contend the office's analysis failed to factor in all spending cuts, such as reduced costs because of preventive care programs.
Once each chamber passes a bill, a conference committee will merge the two measures into a single proposal that would have to win approval from both houses before going to Obama. The president wants a bill on his desk this year to take advantage of the momentum of his new administration and avoid the thornier political climate of mid-term congressional elections in 2010.
On the Senate side, Democratic and Republican members of the Finance Committee continued negotiations on a compromise bill that would be the first bipartisan proposal so far.
The Finance Committee version lacks a public insurance option. Instead, Democratic Sen. Kent Conrad of North Dakota has proposed creating health insurance cooperatives that could arrange collective coverage for members. Conrad says such nonprofit cooperatives would provide competition for private insurers while avoiding the Republican concern of government-funded programs monopolizing the health insurance market.
On Monday, Republican Sen. Olympia Snowe of Maine called the cooperative idea an important provision, adding she believes "it's going to remain in the final document."

The U.S. Chamber of Commerce on Monday released a letter to Senate Finance Committee leaders Max Baucus, D-Montana, and Charles Grassley, R-Iowa, urging them to complete their bipartisan proposal before the August recess.
The chamber, considered politically conservative, said the country needs a bipartisan alternative to the House bill and its government-funded private option, which the chamber opposes.

E-mail to a friend

CNN's Dana Bash, Deirdre Walsh and Ted Barrett contributed to this story.
All About Health Care Policy • Steny Hoyer • Nancy Pelosi