SHAKER HEIGHTS, Ohio (CNN) -- President Obama took his health care offensive on the road Thursday, accusing top Republicans of playing politics with his top domestic legislative priority.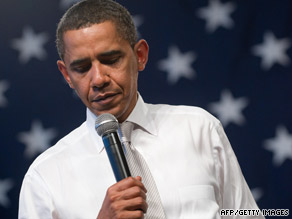 President Obama says "we have never been closer to achieving quality, affordable health care."
"We have never been closer to achieving quality, affordable health care for all Americans," Obama said in a packed town hall meeting outside Cleveland, Ohio.
"But at the same time, there are those that would seek to delay and defeat reform. ... We had one Republican strategist told his party that even though they may want to compromise, it's better politics to 'go for the kill.'"
Another Republican senator, the president said, had argued "that defeating health reform is about 'breaking' me -- when it's really the American people who are being broken by rising health care costs and declining coverage."
The president also set his sights on Republican National Committee Chairman Michael Steele.
Steele, Obama said, is "seeking to stall our efforts" and "recently went so far as to say that health insurance reform was happening 'too soon.' ... I think that's a little odd. We've been talking about health reform since the days of Harry Truman."
Obama concluded that "reform may be coming too soon for some in Washington, but it's not soon enough for the American people."
Top Republican strategist Bill Kristol recently wrote on a conservative Web site that for the GOP "this is no time to pull punches. Go for the kill."
Last week, Republican Sen. Jim DeMint of South Carolina was quoted as telling the group Conservatives for Patients Rights, which opposes Obama's health care plan, that "if we're able to stop Obama on this, it will be his Waterloo. It will break him."
Obama took his push to overhaul health care to a national audience in a primetime news conference Wednesday night.

Watch Obama push for an overhaul »
With a voice of urgency, Obama said that if nothing is done, health care costs will double in the next decade and more Americans will lose their coverage. He again tried to lay out how the overhaul of health care fits into his broader economic strategy.
But what the president didn't do is convince the public that reform is on the way, analysts said.
Obama had given Congress a deadline of August for sending him a health care bill. He backed off such a firm due date this week, saying, "We will do it this year." Senate Majority Leader Harry Reid said Thursday the Senate will not vote on health care reform legislation before the August congressional recess.
David Gergen, a senior political analyst for CNN, said there's a "real fear" in the White House that if nothing is done before the August recess, "support will start to crumble."
"In some ways, I think tonight was a holding action to hold the public in place," he said.
"It is pivotal to his presidency. It's his single most important domestic initiative. He didn't run to fix the economy -- he inherited that. But he ran to fix health care."
Republican critics such as former New York Mayor Rudy Giuliani agreed that health care reform is a major priority, but he said it's not something that should be done in haste.
Giuliani said reform is "one of the most important things we can do, which is why we have to do it right and why it shouldn't be rushed. If the plan is such a good plan ... it can stand the test of time. I don't understand this big rush to try to get it done. This is a very complicated thing," he said.
As Obama pushes back against critics of his health care plan, a national poll out Tuesday indicates that half the country disapproves of how he's handling the issue.
Forty-four percent of those questioned in the survey approve of how Obama's dealing with health care, while 50 percent do not, according to the USA Today/Gallup Poll.
James Carville, a Democratic strategist and CNN contributor, said Obama's prime-time appeal probably wasn't much of a game-changer.
"Honestly, I doubt if you're going to see the numbers move. You'll see the numbers really move a lot, if he succeeds, and he'll do a lot better. If he fails, it will be a lot worse than 50 [percent] disapprove," he said.
"I don't know if one press conference is going to change anything. I've said all along I thought this was like an NBA game midway in the third quarter. Tune in when there's three minutes left to go, and it will be fast and furious."
Republican strategist and CNN contributor Bay Buchanan argued that Obama hurt himself with what she considered a "rambling" news conference.

"I really looked at this objectively because he is a very fine communicator, and this is a strong suit of his, to get out there and sell a policy. I thought it was somewhat rambling, anecdotal defense of a really major policy," Buchanan said.
"It was hard to keep your mind focused as he went on and on in a lot of details. I don't think it was compelling or convincing, and so I think he hurt himself tonight because I think they really needed a real push, at least to stop the erosion of public support."
E-mail to a friend

CNN's Kristi Keck contributed to this report.
All About Barack Obama • Health Care Policy