By Gloria Borger
CNN Senior Political Analyst





Editor's note: Gloria Borger is a senior political analyst for CNN, appearing regularly on CNN's "The Situation Room," "Campbell Brown," "AC360°" and "State of the Union With John King," as well as special event coverage.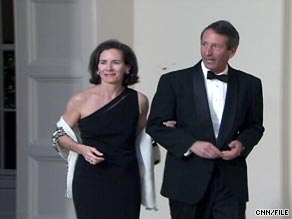 Jenny Sanford did not stand beside her husband when he publicly admitted to having an affair.
WASHINGTON (CNN) -- After years of watching those wives stand (sadly) by their men, there was something refreshing -- and real -- about Jenny Sanford's decision to be far, far away from the governor's apology tour.
After all, what would she have done when he rambled on and on about his love of his "adventure trips" on the Appalachian Trail when, it turns out, he wasn't hiking?
And would she have had to sweetly smile as her husband paid homage to her as a terrific "campaign manager"?
And what affect would she have had to adopt when the governor spoke about "that whole sparking thing" -- his peculiar way of describing how an e-mail relationship developed into something else?
The accepted political guidelines for jilted wives (see: wives, jilted) have always decreed that the wounded ones be seen, but stay silent. They are the suffering partners willing to literally remain in the picture out of political necessity. Their very presence helps to suggest that this love is worth saving, because this man is so special -- to all of us.
Well, forget it.
In just one week, Jenny Sanford has shifted the paradigm of the political wife.
Faced with infidelity, she did not stand by her man -- literally or in any other way. She did not try to soft-pedal the reality of his behavior. In other words, she did not make his life any easier.
Instead, she told the truth.
First, in a statement, she let it be known that when she discovered the affair, she tried to work on the marriage. At the point where it was clear that wasn't working -- and "I felt it was important to look my sons in the eyes and maintain my dignity" -- she threw Sanford out.
That's why, she explained, she didn't know where he was when the state -- and the nation -- was playing "Where's Waldo?" starring Mark Sanford. But she wasn't consumed with revenge, either.
In fact, her written statement made it clear she still loved her errant husband and, remarkably, remained "willing to forgive Mark completely for his indiscretions" if he gets his act together.
Then came the interviews -- in a car as she left her house, or in a brief sit-down with The Associated Press. That was where we learned this almost unbelievable tidbit: that the lovesick governor had repeatedly asked her permission to visit his mistress. (Can we presume to try to break it off?) This needs to be stated again: He asked his wife for permission to visit his lover. As if he expected his wife to say, "Sure, honey, go right ahead"?
She didn't. As she told the AP, "It's one thing to forgive adultery; it's another thing to condone it." So he went anyway, as Jenny Sanford tells us. She has no idea whether he has ended the affair, as he had promised. "I believe he has," she said. "But he was down there for five days. I saw him yesterday, and he is not staying here."
As for the governor, he's too preoccupied with his own personal journey as a vulnerable, emotionally wrought male to actually tell the full truth about what happened. Apologies abound, but the fact that he has decided to try to remain as governor makes the truth harder to spill. Instead of seeing himself as a philanderer, he has now decided to cast himself more grandly -- as David in the ultimate battle of his political life.
Jenny Sanford hasn't chosen a literary allusion to define her predicament. She prefers to see herself as she truly is: the mother of four sons, just trying to survive this mess with some dignity and honesty.
Alone.
The opinions expressed in this commentary are solely those of Gloria Borger.
E-mail to a friend

All About Jenny Sanford • Mark Sanford • Marriage