(CNN) -- Jenny Sanford said Thursday that her husband Mark Sanford's political career is "not a concern of mine" and that she'd be just fine -- regardless of whether their marriage survives.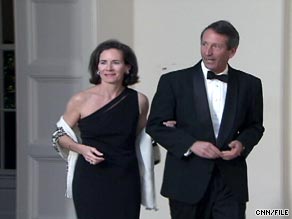 Jenny Sanford, here with her husband, was a Wall Street executive before she married Mark Sanford.
She would not speculate whether her husband would resign as South Carolina governor.
"His career is not a concern of mine," she told reporters as she departed the family's vacation home in Sullivan's Island, South Carolina. "He's going to have to worry about that. I'm worried about my family and the character of my children."
She added that she would be fine, with or without her husband.
"I have great faith and great friends and great family. We have a good Lord in this world and I know that I'm going to be fine and not only will I survive, I'll thrive," she said.
"I don't know if he'll be with me, but I'm going to do my best to work on my marriage because I believe in marriage. I believe in raising good kids is the most important thing in the world," she said.
After disappearing from the public eye for nearly a week, Gov. Mark Sanford, 49, admitted to having an extramarital affair with an Argentine woman.
He also admitted Wednesday that he had not hiked the Appalachian Trail during his absence -- as his staff had said earlier -- but had been in Buenos Aires, Argentina.
Jenny Sanford would not reveal whether she was headed back to the family's home in Columbia. "Right now we're taking it a day at a time. Right now we're going out on a boat."

Watch more of Jenny Sanford's comments »
Gov. Sanford, leaving the family home in a different car, was in a far less talkative mood. "I'm going back to Columbia," he said.

The State, the Columbia-based newspaper that acquired what it said were e-mail exchanges between Sanford and the woman in Argentina, acknowledged Thursday that there would likely be people who would call for the governor's resignation.
"We are not ready to join them at this point," its editorial said.

E-mail to a friend

All About Mark Sanford • South Carolina