WASHINGTON (CNN) -- President Obama acknowledged Thursday that a climate change bill strongly backed by the White House will face an extremely close vote in the House of Representatives as early as the end of the week.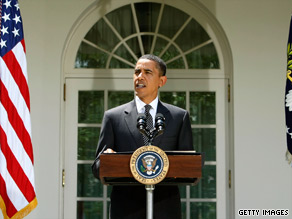 President Obama makes the case for energy legislation Thursday in the White House Rose Garden.
Obama made an urgent plea for congressional approval in what could be an early make-or-break test for his young administration.
"Now is the time for us to lead," Obama said in the White House Rose Garden. "We cannot be afraid of the future. We cannot be prisoners to the past."
The president said the bill will spark a "clean energy transformation" of the U.S. economy and "make possible the creation of millions of new jobs."
"Make no mistake," Obama said. "This is a jobs bill."
The climate change bill under debate in the House would reduce nationwide greenhouse gas emissions 17 percent by 2020 and 83 percent by 2050 through a so-called "cap-and-trade" program.
The bill's future also remains unclear in the Senate, where leaders are holding off on advancing their own version of the legislation until it clears the House.
E-mail to a friend

All About Barack Obama • Energy Policy