WASHINGTON (CNN) -- In a sign of progress in overhauling health care, the nation's pharmaceutical industry has agreed to a deal that will reduce drug costs for elderly Americans.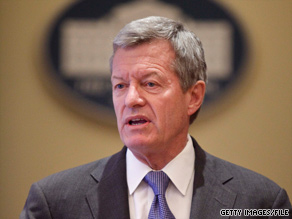 Sen. Max Baucus says the deal will reduce $80 billion in Medicare drug costs for the elderly over the next 10 years.
The agreement negotiated by Sen. Max Baucus, D-Montana, discounts medications for Medicare beneficiaries who currently face high out-of-pocket expenses when their benefits reach a gap in coverage, according to statements Saturday by Baucus and the Pharmaceutical Researchers and Manufacturers of America.
President Obama praised the agreement as a "turning point" in efforts to forge a national health care reform plan that both cuts costs and expands coverage to the 46 million uninsured Americans.
"Key sectors of the health care industry acknowledge what American families and businesses already know -- that the status quo is no longer sustainable," Obama said in a statement Saturday. "The agreement reached today to lower prescription drug costs for seniors will be an important part of the legislation I expect to sign into law in October."
The statement by the industry group that represents the country's leading pharmaceutical companies said it agreed to a 50 percent discount to most beneficiaries for brand-name medicines purchased in the so-called "doughnut hole" gap in coverage.

Watch CNN's John King visit the renowned Cleveland Clinic »
The gap involves medication costs of senior citizens between roughly $2,700 and $6,100 a year that are not covered by the Medicare part D plan.
Baucus said in his statement that the deal amounted to an $80 billion reduction in Medicare drug costs for senior citizens over the next 10 years.
"This new coverage means affordable prices on prescription drugs when Medicare benefits don't cover the cost of prescriptions," Baucus said.
Overhauling health care is a top priority of the Obama administration, but initial proposals to reach Congress last week received a rocky reception.
The Congressional Budget Office determined that either of two similar bills written by Senate Democrats would cost more than $1 trillion, which was higher than expected.

Watch CNN's Elizabeth Cohen explain the basics in the health care debate »
Republican opponents immediately slammed the measures, and the Senate Finance Committee chaired by Baucus delayed scheduled hearings on one of the measures.
Hearings by the Senate Committee on Health, Education, Labor and Pensions on the other measure began amid partisan bickering, with hundreds of amendments proposed by Republican opponents.
At least two more bills are expected from the House of Representatives, and a bipartisan group led by former Senate majority leaders Tom Daschle, Howard Baker and Bob Dole also has offered guidelines for a proposal.
At issue is how best to reduce the cost and increase the reach of the current health care system, which officials say is increasingly draining personal, corporate and government budgets while leaving 46 million Americans without health insurance.
Obama warns that failure to act now would bring far worse economic difficulties than the costs of plans under discussion.
Both parties in Congress agree on the need to slow the increase in health care costs while ensuring that all Americans can get health insurance, but they differ sharply on how to proceed.
Democrats generally favor a government-funded "public option" to compete with private insurers. Republicans have said such a step would lead to a government takeover of health care, which they oppose.

Republicans accuse Obama and Democrats of trying to rush through what they say is flawed legislation in 2009, before the politics of midterm elections in 2010 and the 2012 presidential race.
The parties agree on several principles, including an emphasis on preventive care, cost-cutting measures in existing Medicare and Medicaid programs, and a halt to denials of coverage because of pre-existing medical conditions.
E-mail to a friend

All About Max Baucus • Medicare • Health Care Costs