By Ed Hornick
CNN






WASHINGTON (CNN) -- President Obama's speech to the Muslim world on Thursday faced mixed reaction abroad -- and a very clear directive at home from Republicans and conservatives: The United States cannot ruin its relationship with Israel.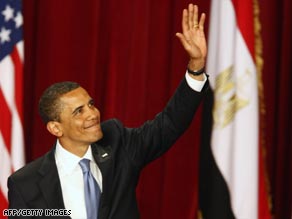 President Obama delivered a major speech to the Muslim world Thursday in Cairo, Egypt.
Speaking in Cairo, Egypt, the president took on the heated and controversial Palestinian-Israeli conflict by reaffirming that the U.S. favors a two-state solution and urging compromise between "two peoples with legitimate aspirations."
The United States, he said, "does not accept the legitimacy of continued Israeli settlements."
Those Jewish settlements are spread throughout the Palestinian-controlled West Bank. Israel maintains the settlements are needed, while Palestinians say they are an obstacle to the peace process.
Calling America's "strong bond" with Israel "unbreakable," he said, "It is based upon cultural and historical ties and the recognition that the aspiration for a Jewish homeland is rooted in a tragic history that cannot be denied."

Watch Obama discuss Israel »
Israeli Prime Minister Benjamin Netanyahu, speaking to the Knesset Foreign Affairs Committee on Monday, said that a freeze of settlement activity is not reasonable. Read about reaction in the Middle East
In his speech Thursday, Obama noted the aspirations and grievances of both sides and cautioned, "But if we see this conflict only from one side or the other, then we will be blind to the truth." He exhorted Palestinians that "resistance through violence and killing is wrong and it does not succeed."
House Minority Leader John Boehner blasted Obama's approach to the Israeli-Palestinian question.
"He seemed to ... place equal blame on the Israelis and the Palestinians. I have concerns about this," the Ohio Republican said. "The Israelis have the right to defend themselves."
Boehner's Republican colleague, Rep. Mike Pence of Indiana, added that "there was a sense in here of a moral equivalency between those who are driving for a Palestinian state and the state of Israel."
Don't Miss
Pence said the president should not be asking Israel to make another concession, but instead, "call on the Palestinians and their supporters across the Arab world to begin to see real concessions within the Palestinian movement. ... a real effort to defang Hamas, to disarm terrorists."
Obama said that the controversial Hamas movement -- which controls Gaza, near Egypt, and has significant support among Palestinians -- must end violence and recognize past agreements.
Marc Thiessen, a former Bush administration speechwriter, noted that Obama "announced a major shift in U.S. policy in the Holy Land."
"In 2002, President Bush declared in his Rose Garden address that America would only engage 'Palestinian leaders not compromised by terror,' " Thiessen wrote on National Review Online. "In Cairo today, Obama reversed this policy ... This is naïve and dangerous."
Republican strategist and CNN contributor Ed Rollins said Obama may have further soured relations with Israel.

Watch more of Obama's speech in Egypt »
"I think the key thing here that he has to worry about is that he clearly drew the line and set some standards that the Israelis may not go along with," he said.
But another concern on the radar came this week from former Massachusetts Gov. Mitt Romney -- an often-talked-about 2012 GOP presidential candidate.
Romney said that Obama needs to stop using foreign soil to apologize for U.S. relations, in what he calls a "tour of apology."
Romney took aim at Obama's plans to trim the missile defense budget a "grave miscalculation" that puts the nation at risk in the face of urgent threats like Iran and North Korea's nuclear ambitions.
Obama reiterated Thursday his desire to move forward with Iran on many issues, but said when it comes to nuclear weapons, "we have reached a decisive point."
"This is not simply about America's interests. It is about preventing a nuclear arms race in the Middle East that could lead this region and the world down a hugely dangerous path," he said.
Any nation, including Iran, "should have the right to access peaceful nuclear power if it complies with its responsibilities under the nuclear Non-Proliferation Treaty," the president added.
Other Republican opponents, meanwhile, decry Obama for seemingly apologizing for U.S. foreign policy in Iraq and Afghanistan.
Speaking to a mostly Muslim crowd, Obama said the United States entered Afghanistan by "necessity" and not "choice," he countered the stances of some who "question or justify the events of 9/11."
He addressed the conflict in Iraq, calling it, unlike Afghanistan, "a war of choice that provoked strong differences in my country and around the world."
"Although I believe that the Iraqi people are ultimately better off without the tyranny of Saddam Hussein, I also believe that events in Iraq have reminded America of the need to use diplomacy and build international consensus to resolve our problems whenever possible," he said.
Thiessen was sharply critical of Obama on that point.
"He made no mention of democracy in discussing Afghanistan. He made no mention of democracy in discussing Iraq. He made no mention of the advance of freedom in the Middle East that has taken place in recent years, or any commitment to continue it," he wrote.
"Indeed, he said Iraq was a 'war of choice' but then said a moment later that Iraq is better off without Saddam Hussein. Well, was it a good choice then?" he said.
Then came the contentious issue of closing the Guantanamo Bay, Cuba, detention facility.
Speaking about prohibiting torture and the closing of Gitmo, Obama talked about working on "concrete actions to change course" and correct abuses in the war on terror.
"Just as America can never tolerate violence by extremists, we must never alter our principles. 9/11 was an enormous trauma to our country. The fear and anger that it provoked was understandable, but in some cases, it led us to act contrary to our traditions and our ideals," he said.
But that's one point of contention for Boehner -- along with Republicans and even some Democrats -- who do not want detainees on U.S. soil, and demand a clear plan going forward.
"When it comes to Guantanamo Bay, he again today made it clear he wants to close Guantanamo without having a plan in place for what to do with those detainees that are there," Boehner said.
But not all conservatives were quick to blast Obama's speech.
Andrew Sullivan, a conservative who supports many of Obama's policies, said the speech touched on spiritual and human differences.
"At its heart, the speech sprang, it seemed to me, a spiritual conviction that human differences, if openly acknowledged, need not remain crippling," he wrote on his TheAtlantic.com blog. "It was a deeply Christian -- and not Christianist -- address; seeking to lead by example and patience rather than seeking to impose from certainty."

Thiessen, while mostly critical of what Obama had to say in his much-anticipated speech, did offer some reluctant praise.
"He took on the conspiracy theories about 9/11 ... And he pointed out that al Qaeda has 'killed people of different faiths, more than any other, they have killed Muslims.' All these are important points."
E-mail to a friend

All About Barack Obama • Islam • Israel • Palestinian Politics