By Terry Frieden
CNN Justice Producer





WASHINGTON (CNN) -- The Obama administration asked the Supreme Court to reject an appeal by Chinese Muslim dissidents who want to be brought to the United States after their release from Guantanamo Bay, Cuba.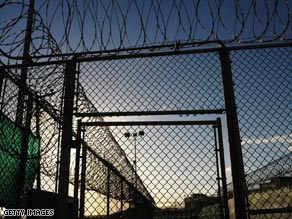 The Obama administration is looking for a home for 17 Uighur detainees currently housed at Guantanamo Bay.
The Justice Department, in its filing Friday, urged the high court to refuse to review a Circuit Court decision overturning a lower court which had ordered the Uighurs brought to Washington, D.C. and immediately set free.
The dispute has become a central issue in President Obama's promise to close Guantanamo Bay Naval Base prison by January 2010.
All sides are agreed the Uighurs, who seek independence from China for their Turkic Muslim region, cannot be returned to China because they would face severe punishment or death. However, no other nation has been willing to accept them, in part because it would anger Chinese authorities.
Congressional Republicans insist that bringing them to the United States represents a potential danger to the communities where they would be settled, because their history includes training in al Qaeda camps in Afghanistan. The Uighurs were captured in Pakistan and turned over to U.S. authorities in 2002.
Congressional Democrats largely agreed that the detainees represent a potential risk and have blocked any new funds to transfer Guantanamo detainees to the United States.
Don't Miss
U.S. courts have declared the 17 Uighurs are eligible for release, but the United States says it must be able to find a home for them and is still seeking a sanctuary.
"The government has engaged in extensive diplomatic efforts to resettle petitioners but it has not yet located an appropriate foreign country willing to accept them," the government said in its filing with the Supreme Court.

Lawyers for the Uighurs argue they represent no threat to the safety of U.S. citizens and have sponsors awaiting them who would ensure they could be settled safely into their communities.
The high court's decision on whether to accept the case is expected to turn on the authority of courts to order any detained individual brought to the United States outside the nation's existing immigration laws.
E-mail to a friend

All About Guantanamo Bay • China