WASHINGTON (CNN) -- Former Vice President Dick Cheney Thursday said the Bush administration's "enhanced" interrogations of al Qaeda prisoners, saved "thousands, perhaps hundreds of thousands" of lives.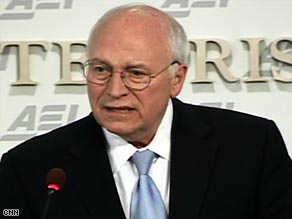 Former Vice President Dick Cheney defends Bush administration policies during a speech Thursday.
Dismissing critics who said the policy amounted to the torture of suspected terrorists, Cheney called the techniques the Bush administration approved "legal, essential, justified, successful and the right thing to do." And he said President Obama has weakened the country's ability to combat al Qaeda and other extremists by eliminating them.
The former vice president said U.S. intelligence officers "were trying to prevent future killings" and did not commit torture. But he defended the use of "waterboarding," which the United States has prosecuted as torture in the past, as a valuable tool used on three top al Qaeda figures.
"In my long experience in Washington, few matters have inspired so much contrived indignation and phony moralizing as the interrogation methods applied to a few captured terrorists," he said.
Cheney made his remarks during a speech at the American Enterprise Institute, a conservative think tank, just minutes after Obama laid out a similarly scathing criticism of his predecessors in an address on national security at the National Archives in Washington.

Watch Cheney deny torture took place »
Cheney argued the power the Bush administration exercised in the war against al Qaeda was clearly granted by the Constitution and by legislation passed by Congress after the September 11, 2001, attacks on New York and Washington. The administration was responsible for preventing "something much bigger and far worse" than those attacks, which killed nearly 3,000 people.
"The intelligence officers who questioned the terrorists can be proud of their work, proud of the results, because they prevented the violent death of thousands, perhaps hundreds of thousands of people," he said.
Cheney said Obama's decision to close the Guantanamo Bay, Cuba, detention facility was undertaken "with little deliberation and no plan." And he argued Obama's decision to release Bush-era interrogation memos was a reckless and unfair distraction in the fight against extremists, noting it was opposed by Obama's own CIA director, Leon Panetta.

Watch Cheney say Obama has no real plan »
Cheney reiterated his argument that if the public has a right to know about various methods of interrogation, it should also have a right to know what those methods achieved.
'Extreme Challenges'
Two wars, a broken economy and historic plans the president says just can't wait. Watch a special "AC360."
Beginning at 10 ET tonight

Only detainees of the "highest intelligence value" were subjected to enhanced interrogation techniques, he said. Only three detainees, he noted, were waterboarded.
With thousands of lives potentially in the balance, Cheney argued, it didn't make sense to let high-value detainees "answer questions in their own good time."

Watch Cheney defend post-September 11 efforts »
Cheney conceded that at Abu Ghraib prison in Iraq, a "few sadistic guards" committed illegal, immoral acts and therefore "deserve Army justice."
But he drew a distinction between the activities at Abu Ghraib and sanctioned interrogation techniques "conducted within the constraints of the law."
It would be a "horrible precedent" to have an incoming administration "criminalize" the policies of its predecessor, he said.

Watch Obama describe going "off course" »
"I would advise the administration to think carefully about the course ahead," Cheney said.
A total ban on certain interrogation techniques, Cheney said, is "recklessness cloaked in righteousness."
In fact, according to Cheney, Obama has reserved for himself "the right to order the use of enhanced interrogation, should he deem it appropriate."
"It's almost gone unnoticed that the president has retained the power to order the same methods in the same circumstances," he said.
But White House spokesman Robert Gibbs said Obama has "absolutely not" left any exceptions for himself in his executive order barring the use of Bush administration-approved tactics such as sleep deprivation.
"The president of the United States signed an executive order doing away with enhanced interrogation techniques," Gibbs told CNN. "The policy of the government of the United States of America is to no longer use these techniques, and they won't be used."
Cheney suggested that Obama draws comfort from being criticized from the right and the left, believing he has found an acceptable middle ground.
But, "in the fight against terrorism, there is no middle ground, and half-measures leave you half-exposed," Cheney said.
"Triangulation is a political strategy, not a national security strategy. ... There is never a good time to compromise when [the lives of the American people] hang in the balance."
The former vice president said the Bush administration's national security policies delivered numerous "blows" to extremists targeting the United States.
He said every plot for an attack in the United States since September 11, 2001, had failed.

"When President Obama makes wise decisions ... he deserves our support," Cheney said. "And when he faults or mischaracterizes the national security decisions we made in the Bush years, he deserves an answer."
Obama delivered his own speech earlier Thursday at the National Archives, touching on virtually every point Cheney would make.
E-mail to a friend

All About Dick Cheney • Terrorism • Guantanamo Bay • Domestic Security Policy