(CNN) -- House Speaker Nancy Pelosi is engaging in a "despicable, dishonest and vicious political effort" to withhold what she knew about the CIA's harsh interrogation techniques, former Speaker Newt Gingrich said Friday.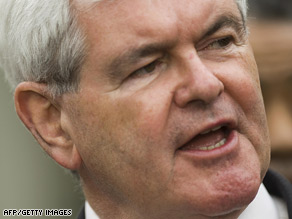 Newt Gingrich says Nancy Pelosi is a 'trivial politician, viciously using partisanship for the narrowest of purposes.'
Gingrich said Pelosi "lied to the House" when she earlier claimed that the CIA had never briefed her about the Bush administration's use of interrogation methods like waterboarding, which is considered torture by the current administration.
"I think that the House has an absolute obligation to open an inquiry, and I hope there will be a resolution to investigate her. And I think this is a big deal. I don't think the speaker of the House can lie to the country on national security matters," the Republican leader said in an interview with ABC Radio.
Pelosi has been under fire from critics who say she was fully briefed on the techniques in 2002 and 2003. On Thursday, the California Democrat accused CIA officials of misleading her, reiterating a claim that she was briefed on such techniques only once -- in September 2002 -- and that she was told at the time that the techniques were not being used.
A recently released Justice Department memo says the CIA used waterboarding at least 83 times in August 2002 in the interrogation of Abu Zubaydah, a suspected al Qaeda leader imprisoned at U.S. facilities in Guantanamo Bay, Cuba.
Pelosi said the briefing she received from the CIA was incomplete and inaccurate, and she called on the CIA to release a full transcript of the briefing. She also accused Republicans of jumping on reports of the briefings to cause a distraction.
"She is a trivial politician, viciously using partisanship for the narrowest of purposes, and she dishonors the Congress by her behavior," Gingrich also said in the blistering interview.
Don't Miss
"Speaker Pelosi's the big loser, because she either comes across as incompetent or dishonest. Those are the only two defenses," he continued. "The fact is, she either didn't do her job, or she did do her job and she's now afraid to tell the truth."
The dispute over intelligence prompted CIA Director Leon Panetta to stand up for the agency Friday and challenge Pelosi on her assertion that the CIA had misled her.
"There is a long tradition in Washington of making political hay out of our business. It predates my service with this great institution, and it will be around long after I'm gone. But the political debates about interrogation reached a new decibel level yesterday when the CIA was accused of misleading Congress," Panetta said in a letter to employees.
"Let me be clear: It is not our policy or practice to mislead Congress. That is against our laws and our values. As the agency indicated previously in response to congressional inquiries, our contemporaneous records from September 2002 indicate that CIA officers briefed truthfully on the interrogation of Abu Zubaydah, describing 'the enhanced techniques that had been employed.' Ultimately, it is up to Congress to evaluate all the evidence and reach its own conclusions about what happened."
Pelosi issued a response to Panetta on Friday in which she shifted her criticism from the CIA to the Bush administration.
"My criticism of the manner in which the Bush administration did not appropriately inform Congress is separate from my respect for those in the intelligence community who work to keep our country safe," she wrote. "What is important now is to be united in our commitment to ensuring the security of our country; that, and how Congress exercises its oversight responsibilities, will continue to be my focus as we move forward."
Pelosi wants the notes of her 2002 briefing declassified because, she has said, they will show that she wasn't told that techniques such as waterboarding were being used.

Watch Pelosi explain what she was told »
Rep. Pete Hoekstra, R-Michigan, wants them released because he says they'll prove something different.
"The American people ought to know what Congress knew and when they knew it, and they'll will recognize that not only did President Bush but Republican and Democratic leadership on the Hill supported the use of these enhanced interrogation techniques," he said Thursday on Fox News.
The top Republican on the Senate Intelligence Committee said he has read the notes from Pelosi's briefing and insists that she's wrong.
"The record shows Speaker Pelosi was briefed that the techniques were used on Abu Zubaydah," Kit Bond of Missouri said in a written statement.
That appears to back up CIA records declassified last week, which say that on September 4, 2002, Pelosi and Rep. Porter Goss, R-Florida, were briefed on enhanced interrogation techniques.
In the Senate, Republican Richard Shelby of Alabama and Democrat Bob Graham of Florida were briefed together in September 2002 but have very different accounts of the briefing.
Through a spokesman, Shelby said CIA officials gave them a full account of harsh techniques.
"To his recollection, not only did the CIA briefers provide what was purported to be a full account of the techniques, they also described the need for these techniques and the value of the information being obtained from terrorists during questioning," Jonathan Graffeo said in a written statement.
"The Senate briefing also included an explanation of how these techniques were consistent with the law and with the national security interests of the U.S. ... While there was a great deal of discussion, there were no objections raised during the Senate briefing."
Graffeo added, "To Senator Shelby's recollection of the Senate briefing, waterboarding was one of the [enhanced interrogation techniques] the CIA said it had used."

But Graham insists that they were told nothing about waterboarding or other harsh tactics.
"The briefing was done at a relatively low level of classification and did not get into these more sensitive areas of torture or the application of techniques to specific detainees," Graham said. "The briefing, according to the statement in my notebook, was on detainee interrogation, but it did not include waterboarding or any particular person to whom that had been applied."
E-mail to a friend

CNN's Alexander Mooney, Pam Benson, Ed Hornick and Kristi Keck contributed to this report.
All About Nancy Pelosi • Central Intelligence Agency • Newt Gingrich