By Charley Keyes
CNN





WASHINGTON (CNN) -- A new State Department report says some local employees hired by U.S. embassies and other posts around the world are so poorly paid they have to cut back to one meal a day or send their children to peddle on the streets.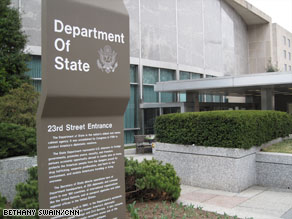 The State Department has established a "working group" to better assess pay situations for locally employed staff.
The report from the department's Office of the Inspector General looked at how the U.S. pays more than 51,000 local, non-American employees in about 170 missions. In addition to the hardship caused to the workers because of inadequate pay, the report found that the U.S. is losing staff to other higher-paying employers and may not be able to fill vacancies with qualified people.
While the report did not name missions where such situations occur or provide numbers of low-paid employees, it blamed an overwhelmed, inadequately staffed employment office in Washington for the inability to make appropriate changes to pay levels and to keep up with events overseas, such as inflation that quickly erodes buying-power.
The report says the hardest-hit local employees are those at the lowest levels, and quotes some employees as saying they make less than $1 a day.
Some U.S. missions are in impoverished parts of the world where low salaries are common, and there is a wide range in pay depending on what jobs are performed and where. But the report sets out a stark picture of the richest country in the world paying some of the lowest salaries.
"Twenty-seven missions presented compelling arguments that their lower-grade employees fall short of minimal living standards," the report said.
"These arguments included accounts of LE [locally employed] staff: removing children from school, cutting back to one meal a day, sending children to sell water or little cakes or toiletries on the streets ... employees depending on salary advances and defaulting on loans in order to cover basic expenses ... [pay]grades 1 to 3 earning less than $1.00 per day."
But the report provides no specific numbers of how many local employees might be making less than $1 a day.
The pay review report is dated last month but was released Wednesday by the State Department Inspector General. It said the problems had direct impact both on the employees themselves and the U.S. offices.
"About 25 percent of missions noted reduced productivity and lower efficiency as a result of inadequate compensation," the report said. "Also, 32 percent of missions reported LE [local employees] staff taking second jobs to cover their expenses."
A State Department official without authority to speak publicly and who requested anonymity said she was not aware of employees making less than $1 a day and that it was difficult to confirm since they would be paid in local currencies.
The State Department has established a "working group" to better assess pay situations for locally employed staff, the official said. In addition to providing adequate compensation, the goal is to keep good employees and recruit qualified new workers, the official said.
"Our local employees are too valuable a resource to lose. We are committed to addressing this concern," the official said.
Employee pay is based on surveys of local pay conditions in every country, the official said, adding that the State Department's local workers were all given a 2.9 percent increase in January and in some cases an additional 1 percent increase.
The Inspector General report said there had been misunderstandings between local employees and American workers, whose pay was increased annually.
"The differences in how salary increases are initiated and implemented for American and LE staff are a point of tension, and make it difficult for post management to explain the compensation process to the LE staff," the report said.
The report quoted a response to a survey of U.S. missions saying the current process is unfair to local employees.
"It is entirely unfair for LE staff to see their American colleagues receive a January increase year after year and they receive nothing for 5 years and counting," the report said.
"Who wouldn't be demoralized watching this year in and year out? There should be some mechanism to give at least a token increase, if not yearly, then every second or third year so that you never have the situation this post has of no increase for 5 years," said the report, which did not identify the post mentioned.

E-mail to a friend

All About U.S. Department of State