By Paul Steinhauser
CNN Deputy Political Director





WASHINGTON (CNN) -- Score a big one for John Cornyn.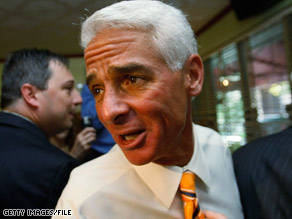 Hours after announcing plans to run for the Senate, Gov. Charlie Crist got the support of top Republicans.
The senator from Texas and chairman of the National Republican Senatorial Committee on Tuesday reeled in a big catch as popular Republican Florida Gov. Charlie Crist announced he'll forgo a re-election bid and instead run for the seat being vacated by retiring Republican Sen. Mel Martinez.
"The challenges that Florida faces are not just Florida's challenges, they are national issues, and as a result of that I believe I can best serve the people of Florida, if they're willing to allow me, as their next United States senator," Crist said Tuesday morning.
Minutes after Crist's announcement, Cornyn quickly put out a statement saying "the National Republican Senatorial Committee will provide our full support to ensure that he is elected the next United States Senator from Florida."
About an hour later, Senate Minority Leader Mitch McConnell also backed Crist, another sign that national Republicans want to avoid a GOP primary in the Sunshine State.
Crist will face former state House Speaker Marco Rubio in the Republican primary. A Quinnipiac Poll released last month showed that Crist had a commanding lead over the more conservative and much less known Rubio, but there are concerns that a primary battle could turn ugly. Rubio was quick to denounce Crist's entrance into the race Tuesday.
Cornyn was quite blunt about who he's backing, saying "while I believe Marco Rubio has a very bright future within the Republican Party, Charlie Crist is the best candidate in 2010 to ensure that we maintain the checks and balances that Floridians deserve in the United States Senate."
Analysts agreed that Crist's entry into the Senate race is a plus for Republicans.
"Crist is the big fish that national Republicans have been looking for," said Stuart Rothenberg, editor of the non-partisan Rothenberg Political Report.
While Cornyn landed the big fish in Florida, he wasn't as successful in Pennsylvania, where Sen. Arlen Specter switched parties and will now run for re-election next year as a Democrat.
Many in the GOP were hoping that popular moderate Republican former Pennsylvania Gov. Tom Ridge would run, but he last week decided against it. A recent poll of Pennsylvania voters suggested that Ridge would have a better chance of beating Specter than the Republican candidate already in the race, conservative former Rep. Pat Toomey.
Democrats currently control 59 seats in the Senate (57 Democrats and two independents -- Sen. Joe Lieberman of Connecticut and Sen. Bernie Saunders of Vermont, who are allied with the Democrats). There are 40 Republicans in the Senate. Nearly seven months after Election Day, there's still no resolution in the battle between Republican Norm Coleman and Democrat Al Franken for the Senate seat for Minnesota.
If Franken wins, he would give the Democrats 60 votes in the Senate, enough to bust Republican attempts to filibuster, a move by the minority party to bring the chamber to a standstill and prevent the passage of legislation.
The Republicans would like to make a dent in the Democrats' lead in the Senate, but that may prove difficult next year. The GOP is defending half of the 36 seats up for election, including five being vacated by retiring Republicans.
In addition to Martinez, Republican Sens. Judd Gregg of New Hampshire, Kit Bond of Missouri, George Voinovich of Ohio and Sam Brownback of Kansas are not running for re-election. And two Republican senators running for re-election -- Jim Bunning of Kentucky and Richard Burr of North Carolina -- could face tough fights to keep their jobs.
But the Democrats may also have some rough spots heading into next year's midterms. Sen. Chris Dodd of Connecticut is fighting for his political life.
Newcomers Kirsten Gillibrand of New York, who was appointed to replace Secretary of State Hillary Clinton, and Michael Bennet of Colorado, who was appointed to replace Interior Secretary Ken Salazar, also could face tough elections in 2010.
Then there's embattled Illinois Sen. Roland Burris of Illinois, who was picked by now-impeached Gov. Rod Blagojevich to fill the seat vacated by President Obama. Burris has not declared that he'll run for re-election. If he does he'll face primary challenges. The Republicans are hoping that Rep. Mark Kirk will run against whomever emerges as the Democratic contender.
Finally there's Delaware, where Sen. Ted Kaufman, who was appointed to replace Vice President Joe Biden, has declared that he won't run next year. Polls in Delaware suggest that Republican Rep. Michael Castle would beat Delaware Attorney General Beau Biden, in a hypothetical matchup. Biden is the son of the vice president.

Overall, the climate right now benefits the Democrats.
"Democrats continue to benefit from a favorable political landscape, solid poll numbers from President Obama and generally successful Senate candidate fundraising," Rothenberg said.
E-mail to a friend

All About Charlie Crist • U.S. Senate • Republican Party • Democratic Party