By Sam Feist and Mark Preston
CNN





WASHINGTON (CNN) -- Florida Gov. Charlie Crist will announce Tuesday he will forgo another bid for governor and instead run for the Senate, two Republican sources tell CNN.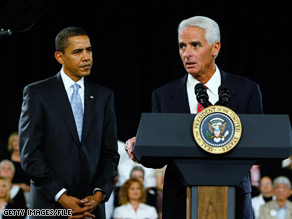 Florida Charlie Crist introduces President Obama at a town-hall meeting in February in Fort Myers, Florida.
Crist is a popular governor, and his entrance into the Senate race would take huge financial pressure off national Republicans to help fund a campaign to save a GOP seat held by retiring Sen. Mel Martinez.
A Quinnipiac University poll in April showed that registered Republicans would vote for Crist over former state House Speaker Marco Rubio, 54 percent to 8 percent, in a party primary. But the survey also found that more people overall and Republicans specifically would rather see Crist run for re-election as governor than seek the Senate seat.
Rubio, who announced his candidacy last week, is seeking to align himself with the conservative wing of the state party. Crist, who supported President Obama's stimulus package, is considered to be more closely aligned with centrist Republicans.
U.S. Rep. Kendrick Meek, North Miami Mayor Kevin Burns and state Sen. Dan Gelber are seeking the Democratic Senate nomination.
Crist's interest in a Senate bid has been rumored since Martinez announced he would retire at the end of 2010. Another source, close to the Crist family, said that the governor's wife has been telling friends her husband is going to seek the Senate seat.
Sources tell CNN that Crist has been waiting for the Florida Legislature to gavel out of session before announcing his political plans.
Don't Miss
"He is the big fish that national Republicans have been looking for," Stuart Rothenberg, editor of the nonpartisan Rothenberg Political Report, said of Crist. "I think the big question is -- does Rubio get out of the race and how quickly would he do so?"
Rothenberg added, "You can bet that national party strategists would love to clear the field for Crist. In that case, the governor would immediately become the favorite for the fall."
In the 2008 race for the White House, Crist endorsed Sen. John McCain of Arizona for the Republican nomination, and the governor reportedly was considered to be a potential McCain running mate.
E-mail to a friend

CNN's Kevin Bohn, John King, Paul Steinhauser and Jessica Yellin contributed to this report.
All About Charlie Crist • Florida • U.S. Senate • Mel Martinez