WASHINGTON (CNN) -- Republican congressional leaders tore into President Obama's proposed 2010 budget Thursday, arguing that his spending cuts will do little to stem a rising tide of red ink.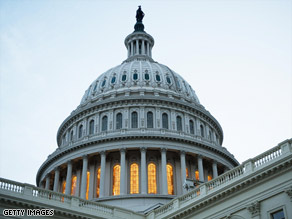 Republicans on Capitol Hill decried President Obama's proposed budget cuts Thursday.
The White House released details earlier in the day outlining $17 billion in cuts from 121 federal programs. The total savings amounts to roughly 0.5 percent of the more than $3.5 trillion in spending approved for next year, or 1.2 percent of next year's projected $1.4 trillion deficit if the president's overall budget is adopted.
"With Democrats in Congress adding to the national debt at the rate of more than $100 billion every month already this year, and with a budget that triples the already unsustainable public debt over the next decade, it is clear that there is not much more that we can do to protect our children and grandchildren from the unprecedented trillions in additional debt proposed by this administration," Senate Minority Leader Mitch McConnell, R-Kentucky, said on the Senate floor.
Sen. Judd Gregg, R-New Hampshire, who withdrew as Obama's commerce secretary-designate earlier this year, also criticized the cuts as minuscule in the face of current spending and deficit projections.
"It's as if this were the Gobi Desert or the Sahara Desert and you came along and you took a few pieces of sand," Gregg said.

Watch more of Gregg's comments »
It "will have virtually no impact on the deficit and the debt as we move forward ... because of the fact that while (they) are taking these few dollars out ... they are adding back in massive amounts of spending."
House Minority Leader John Boehner, R-Ohio, argued that Obama's proposed cuts are identical to cuts previously proposed by former President George W. Bush and rejected by the Democratic-controlled Congress. He also said House Republicans are arguing that Obama's spending cuts will do little to stem deficit spending.
Don't Miss
"Over the next couple of weeks, you'll have a chance to see what real budget cuts look like," he said at a Capitol Hill news conference.
Boehner refused to indicate exactly how much money House Republicans want to cut, but his spokesman said the House GOP leadership would release its list of recommendations for cuts before Memorial Day.
Democratic congressional leaders replied by noting that Obama's proposed cuts were only the start of a long budget review process. They also noted that Obama had inherited a poor financial situation from his predecessor.
"I have asked House committee chairs to search out areas of possible savings in the departments, agencies, and program under their jurisdiction," House Speaker Nancy Pelosi said in a written statement.
"House committees have already conducted 163 hearings, which will help inform our efforts as we review the president's proposed budget cuts and work with the administration to achieve additional savings."
Pelosi added that "the legacy of fiscal recklessness inherited by President Obama and the Congress will make our task more difficult, but we are prepared to make the difficult choices that are required to restore fiscal responsibility and strengthen our economy for the long-term."
House Budget Committee Chairman John Spratt, D-South Carolina, said that "while the Congress is unlikely to agree with all the changes proposed by the administration, the process and the resulting proposals are a step in the right direction, and a sign of fiscal discipline."

Roughly $11.5 billion of Obama's proposed savings would come from the discretionary side of the fiscal 2010 budget -- that is, for programs whose funding is not automatic.

Watch Obama discuss the budgetary cuts »
And roughly half of the savings would come from nondefense programs, a senior administration official said in a briefing call with reporters on Wednesday.
E-mail to a friend

CNN's Suzanne Malveaux and Jeanne Sahadi contributed to this report.
All About U.S. Congress • Democratic Party • Republican Party • Barack Obama