By Gloria Borger
CNN Senior Political Analyst






Editor's note: Gloria Borger is a senior political analyst for CNN, appearing regularly on CNN's "The Situation Room," "Campbell Brown: No Bias, No Bull," "AC360" and "State of the Union with John King," as well as special event coverage.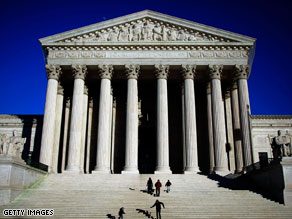 Conservative groups are already taking aim at President Obama's potential Supreme Court picks.
WASHINGTON (CNN) -- In a Washington that pays homage to bipartisanship but never quite gets there, the prospect of a new Supreme Court battle only gets the partisan juices flowing.
After all, hardly anything is more defining than a Supreme Court appointment: it's about qualifications, judicial temperaments and resumes -- not to mention beliefs. It's what presidential elections are all about, after all. A president's legacy is often largely defined by those whom he appoints to the court.
And as we watch this all play out in the coming weeks, there's another legacy up for grabs: the Republican one. As the conservative interest groups gear up for a battle, they're struggling with the obvious question: What kind of a fight would be smart to wage?
After all, this president isn't likely to appoint someone they like -- since, at the very least, the person is bound to believe that Roe v. Wade was properly decided. That was, in part, an argument litigated during the election.
So what's the opposition to do? One conservative group decided to get an early start Tuesday morning by lambasting the administration over process -- more specifically, timing.
In a memo distributed by the conservative Judicial Confirmation Network, the White House is taken to task for vetting at warp speed, which apparently results in appointments "to high government posts nominees who have cheated on their taxes and have other ethical problems."
Moreover, the memo continues, "any rush to appoint a Supreme Court Justice with lightning speed is all the more unseemly."
Don't Miss
Really? Gee, how is it then that nine of the past 13 Supreme Court nominees were named within six days of the announced vacancy? Or that President George H.W. Bush took only three days to announce David Souter as his replacement for Justice William Brennan? Or just four days to announce Clarence Thomas as Thurgood Marshall's replacement on the bench? When Thomas was announced, conservatives were enraptured, not offended by the process which they now say "violates the Obama promises of transparency and accountability."
Maybe they know the name of the Obama nominee and they're keeping it from us.
Actually, they don't. But they're also launching a pre-emptive strike against three of the oft-mentioned names: current solicitor general Elena Kagan ("zero judicial experience," also pointing out her "personal, passionate conviction that gays should be allowed to serve openly in the military"); Judge Sonia Sotomayor (questioning her smarts and her beliefs) and Judge Diane Wood ("has consistently twisted the Constitution"). It is, according to a conservative activist, a way to "condition the environment" -- to put information out there about those considered to be bad nominees.
Here's the problem: It's likely conservative groups are going to lose. So if President Obama appoints someone in, say, the mold of Justice Stephen Breyer, do they still lay themselves down across the railroad tracks of an incoming train -- especially when the ideological balance of the court isn't at stake?
Or do conservatives decide to make their points and forget the histrionics? Every nominee has a paper trail which deserves to be examined. Each one has a judicial philosophy which deserves to be questioned. Each has a certain level of competency, which needs to be probed.
"Consciousness-raising for Republicans" is how one conservative described the upcoming process to me. Restate your beliefs, no doubt raise some money, and maybe even re-energize the base of the party. But if it gets ugly, watch out: the voters do not have unlimited patience.
The opinions expressed in this commentary are solely those of Gloria Borger.
E-mail to a friend

All About U.S. Supreme Court