WASHINGTON (CNN) -- Veteran Pennsylvania Sen. Arlen Specter said Sunday that he hopes his recent switch to the Democratic Party will serve as a "wake-up call" to an increasingly conservative GOP.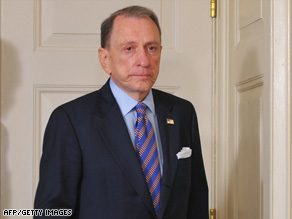 The GOP has declined in part because conservatives have targeted moderates, Sen. Arlen Specter says.
He also once again assigned some blame for the recent decline of the Republican Party to the political advocacy group Club for Growth, which targets moderate GOP incumbents who do not adhere to the doctrine of supply-side economics.
Club for Growth fought Specter's GOP renomination in 2004 and was set to oppose him again in the 2010 primary.
"It would be my hope ... that this would be a wake-up call and the [GOP] would move for a broader big tent like we had under Reagan," Specter said on CBS's "Face the Nation."
"The party has changed so much since I was elected in 1980," he said.
Specter argued the GOP suffered repeated setbacks across the more progressive Northeast and Midwest because groups like Club for Growth "defeated moderate Republicans in the primary, knowing that [the more conservative nominees] would lose in the general election, because purity is more important than Republicans in office."
The failure of conservatives to compromise, Specter said, translates to a number of Republican policy setbacks that could have been avoided.
He cited the example of former Rhode Island Sen. Lincoln Chafee, a liberal Republican forced to spend significant time and money fending off a conservative primary challenger in 2006. Chafee went on to narrowly lose his state's general election to Democrat Sheldon Whitehouse.
Had Chafee "been elected to the Senate in 2006 ... there would have been Republican control [of the Senate] in 2007 and 2008," Specter said. Had that happened, as many as 34 additional Bush judicial nominees could have been confirmed, he said.
Specter, who switched parties Tuesday, said he was forced to make the move when his vote for President Obama's economic stimulus plan led to a collapse of his support within a shrunken, more conservative Pennsylvania Republican primary electorate.

On "one vote, the stimulus package vote, I was ostracized," he said. "I don't expect people to agree with all my votes. I don't agree with them all, at this point. But you've got to have some latitude."
Specter said during a separate appearance on NBC's "Meet the Press" that national Democratic leaders offered him no incentives to switch parties.
E-mail to a friend

All About Arlen Specter • The Club for Growth • Barack Obama