By
John King
CNN Senior National Correspondent





On CNN's "State of the Union," host and chief national correspondent John King goes outside the Beltway to report on the issues affecting communities across the country. This week, King traveled to New Hampshire, where diner patrons shared their thoughts on President Obama and the economy.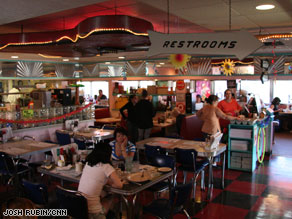 The Tilt'n Diner hosted all the major presidential candidates during the primaries in 2008.
TILTON, New Hampshire (CNN) -- Kate O'Leary voted for Barack Obama and began the year full of energy. But her hope is giving way these days to a sense that some things never change.
"I trust his motives," she said of President Obama. "I feel like he is an honorable guy, I am not sure if he can do it. That's the problem."
Too much too soon is one of her worries. Too much politics as usual is another. Add in too much bailout money and Kate O'Leary is more sober now than she was when Obama took the oath of office.
Across from O'Leary sat Debbie Lurvey, who took a job at the Tilt'n Diner after losing her job in the mortgage business.
"It was a forced unemployment because of the economy," Lurvey said. "So, you know, I decided that it was best to move on to something a little more stable."
O'Leary and Lurvey are among those who think the economy is going to get worse before it gets better. But our third guest for our weekly diner conversation, Jim Wells, isn't so sure.
"I think most of it is psychological," said Wells, a Republican who believes consumers need to be more confident. "The secret out of a recession like this is to spend money. And you have got to spend your own, you can't expect somebody else to spend it for you."
He makes the distinction between consumer spending and what he sees as too much government spending.
"We are going to have to pay the bill in another two or three years and it is going to be scary when it happens," Wells said.
All three agreed one thing missing from Washington is a spirit of cooperation and compromise.
Lurvey said the pain of losing her job and dealing with foreclosure have taught her there are some things the government can't do.
"It is a good time to get back to what this country was made on -- it's the family," she said. "And you know I think for awhile we were all going crazy and overspending and living beyond our means and this has kind of been a reality check for most people."
E-mail to a friend

All About Barack Obama • National Economy