By John King
CNN Chief National Correspondent






Editor's note: John King, CNN's chief national correspondent and "State of the Union" host, examines the news made in Sunday talk and offers up this Monday morning crib sheet on what to watch this week in politics. If you'd like to receive a sneak peek of this story in your inbox every Sunday, you can sign up for the "Political Ticker newsletter" at www.cnn.com/profile.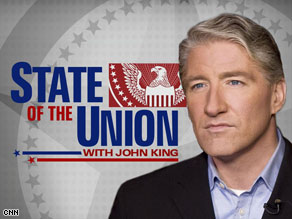 CNN's John King talks with newsmakers about the hot topics in Washington in the past week.
(CNN) -- Our executive producer said it all, "All those people who told me that news never happens on Sunday mornings are out of their minds." Yes, there was plenty of criticism and controversy on the Sunday talk shows -- and a fair amount of news was made -- but the most important story broke after the usual pundits and politicians had had their say.
"The Department of Health and Human Services will declare today a public health emergency in the United States." -- Secretary of Homeland Security Janet Napolitano
The White House press room was almost empty, as anyone who could was out enjoying sunshine. Even the president was off playing a round of golf with his commerce secretary and the U.S. trade representative.
But, behind the scenes, meetings and conference calls had been going on all morning as the administration worked to keep abreast of a new strain of influenza thought to have killed dozens in Mexico and to be spreading to the United States. Shortly after noon, Janet Napolitano, secretary of homeland security; Dr. Richard Besser, acting director of the centers for disease control and prevention; and John Brennan, the assistant to the president for homeland security, came out to brief the country on the fast-changing situation.
White House Press Secretary Robert Gibbs said the president was receiving regular briefings and, even though he visited Mexico only days ago, had shown no signs of the disease
Brennan gave a quick summary of how much they knew of the spread of the illness.
"Today we can confirm that there are 20 cases of swine flu in the United States. We have five infected states. There are eight cases confirmed in New York City, there is one case confirmed in Ohio, two in Kansas, two in Texas and seven in California.
And, again, as we continue to look for cases, I expect that we're going to find them. We ramped up our surveillance around the country to try and understand better what is the scope, what is the magnitude of this outbreak.
The good news, all the individuals in this country who have been identified as cases have recovered. Only one individual had to be hospitalized. But I expect, as we continue to look for cases, we are going to see a broader spectrum of disease. What we know about this virus is it looks to be the same virus as is causing the situation in Mexico. And given the reports out of Mexico, I would expect that over time we're going to see more severe disease in this country." -- Brennan
Secretary Napolitano stressed there was no need for panic but that the situation was deadly serious.
'State of the Union'
John King reinvents Sunday talk: more time for more politics.
Sunday, 9 a.m. ET

"This will be a marathon, not a sprint. And even if this outbreak is a small one, we can anticipate that we may have a subsequent or follow-up outbreak several months later, which we will be prepared for. Again, the government can't solve this alone. We need everybody in the United States to take some responsibility here: If you are sick stay home. Wash your hands. Take all of those reasonable measures. That will help us mitigate contain how many people actually get sick in our country." -- Napolitano Read about Napolitano on the swine flu outbreak
For the latest on this story, keep checking cnn.com or cdc.gov.
Earlier, the divisive debate over the president's release of Bush administration memos that detailed the CIA's use of "torture" or "enhanced interrogation techniques" on suspected terrorists dominated much of the conversation.
Valerie Jarrett, White House senior adviser, dismissed the importance of the documents themselves:
"There was nothing in those documents that the American people hadn't already seen all over the news. The techniques that were being used by the prior administration were well known. When the president came into office, he said we're not going to use those techniques anymore -- that's not who we are as a country. In fact, Denny Blair, his intelligence adviser, said in fact using those techniques makes us less safe. So the president said let's release them and let's move forward." -- Valerie Jarrett, senior White House adviser, on CNN's State of the Union Read more about what Jarrett said about memos
Others felt the release of the memos was a serious error:
"I think it was a mistake to release the techniques that we're talking about and inform our enemy as to what may come their way." -- Sen. Lindsey Graham, R-South Carolina on CNN's State of the Union
But Sen. Graham said he disapproved of the techniques themselves.
"The more that America embraces these techniques like waterboarding that comes from the Inquisition, the harder to get allies to go with us into the Mideast to fight the insurgents. You inflame the opposition. Our enemy uses these images against us." -- Graham.
The other very emotional point of controversy was whether to prosecute anyone for using or even approving of these harsh methods.
"I think that would be a stab in the back. I think he has already demoralized the CIA, put them in a CYA mode." --Sen. Kit Bond, R-Missouri, on Fox News Sunday
"So who are we looking at? We're looking at people that gave the advice. It was bad advice. But if you're going to criminalize bad advice on the part of lawyers, how are we going to get people to serve and what kind of precedent does that set for the future?" -- Sen. John McCain, R-Arizona, on CBS' Face the Nation
Don't Miss
"Let me tell you what I deeply object to and that is that so far the only people who have borne the brunt of these actions, particularly at Abu Ghraib, are some low ranking people in the military. I object strongly when the president says that a few American troops dishonored us at Abu Ghraib, when it was the policies and practices specifically approved by Secretary [of Defense] [Donald] Rumsfeld." -- Sen. Carl Levin, D-Michigan, on Fox News Sunday Read more about senators opposed to the release of the memos
Sen. Levin, the chairman of the Senate Armed Services Committee said he recommended the Justice Department establish an independent commission to decide if prosecution was warranted.
"That decision should not be made by politicians, by partisans, by Democrats or Republicans. It is made traditionally by a Department of Justice who is supposed to make these decisions independently," -- Levin on Fox News Sunday
The chairman of the Senate Judiciary Committee agreed:
"Why not have a nonpartisan, bipartisan commission, like we did in 9/11, and just go back and find everything that happened. I know some people say, 'Let's turn the page.' Frankly I'd like to read the page before we turn it." -- Sen. Patrick Leahy, D-Vermont, on CBS's Face the Nation
John Podesta, White House Chief of Staff during the Clinton administration, has taken matters a step further. He released a letter to Congress requesting an impeachment hearing for Judge Jay Bybee, the only author of a "torture" memo still in an official government position.
"I do think there is a distinction between going back and prosecuting in the criminal courts the actors who were involved in these memos and letting Judge Bybee continue to sit on a court one step removed from the Supreme Court. He's acting and listening to cases and making judgments of others, and we know that he authorized things that were illegal under U.S. law and violated the U.S. obligations under international treaties, and you know, I think that if he would do the right thing, he should just simply resign. But if he doesn't, I think this is one matter where he continues to sit -- he doesn't have the moral or legal authority to continue to do that. And I think a simple matter would be to remove him from office." -- Center for American Progress CEO John Podesta on CNN's State of the Union
Other Democrats, including the chairwoman of the Senate Select Committee on Intelligence, said the White House could calm things down if it would rule out prosecuting former top Bush Administration officials and just let a Senate investigation run its course.
"I think all of this on the front burner before the public does harm our intelligence gathering, does harm America's position in the world. President Obama has worked so hard now to open a new page to go to so many countries to say America is on a new course. Let us do our work and let us do it the way it should be done." -- Sen. Dianne Feinstein, D-California, on CNN's State of the Union
"This whole debate is moot. President Obama has prohibited these tactics from being used in interrogation. ... What do we gain, first, by releasing the memos, but, secondly, what do we gain from indicting lawyers for their opinions -- if that is a possibility here -- or holding a so-called 'truth commission.' ... It will poison the water here in Washington. It will achieve nothing." -- Sen. Joe Lieberman, I-Connecticut, on CNN's State of the Union
Keeping any investigation confined to Capitol Hill clearly has the approval of the White House.
"The Intelligence Committee is the proper location for this study. You've got a bipartisan group there with the ability to do this in a way that we hope will raise it above politics." -- White House Press Secretary Robert Gibbs on NBC's Meet the Press
The other primary topic of the morning was, of course, analyzing Obama's first 100 days in office. Valerie Jarrett, White House senior adviser, praised the president's political style.
"He has reached out more aggressively I think to the Republican Party than I could ever imagine a president could possibly do. So I think the burden is on him to reach out his hand, and that's what he's done, and that's what he's going to continue to do throughout this administration." -- Jarrett on CNN's State of the Union Read more about Jarrett on bipartisanship
But Sen. Graham made it clear how difficult this might be when he told us what the Republicans should be doing in the next 100 days:
"Stand up for fiscal responsibility, work with the president, ... make sure that we end Iraq right, win in Afghanistan and stabilize Pakistan, be a partner where we can and loyal opposition where we need to." -- Sen. Lindsey Graham, R-South Carolina, on CNN's State of the Union
Ken Duberstein, the White House chief of staff for President Reagan, pointed out that several presidents had been as popular as Obama at the 100-day mark.
"We're in the 'Mary Poppins' period of a presidency, where everything is easy and sweet. ... And so, we go from a period of intense love, of getting accustomed, the "Mary Poppins" moment, the honeymoon, to reality setting in. We're now in this period; we're entering this period where all the easy choices are going to end. All the easy stuff, the low-hanging fruit has been done. And now we're going to have to be the moments of trade-offs, whether it's on health care, whether it's on the economy, whether it's on energy and the environment. This is where the real testing of Barack Obama is going to come." -- Duberstein on CNN's State of the Union
Not surprisingly, Democratic strategist James Carville had a glowing review for the president's achievements:
"The signature accomplishment of this president is we have a restoration of confidence in this country. People are feeling better about the country. And that's a magnificent achievement." -- Carville
A view not shared by his wife, Republican strategist Mary Matalin:
"Yes, he's maintained his personal popularity, ... but what he's lost, after starting out with record-setting approval ratings which included a goodly amount of Republicans, a lot of independents, he has lost that support, because what he is not is what he was perceived to be in the campaign, a centrist. ... He's not a centrist. He's not post-partisan. ... I hope Republicans can rise to the challenge and oppose him."
Matalin, a new member of the Best Political Team on Television, will appear with her husband only on State of the Union. One thing is certain, political conversation between these two is truly not something you want to miss. The full transcript of their conversation is already up online. It's better reading than most novels. Read the transcript of their conversation
Two key Middle East leaders also offered their perspectives as we approach the 100-day mark of the Obama presidency. King Abdullah of Jordan had an optimistic appraisal -- followed by a serious question.
"Today, there's a collective hope that there's a new America and a new America means new values for the world. What everybody believed America to stand for is what I think Obama encompasses, but how long is that goodwill going to last?" -- King Abdullah II of Jordan on NBC's Meet the Press
Iranian President Mahmoud Ahmadinejad, who is on record saying Israel should be wiped off the map, had a startling answer to the question of whether he could support a two-state solution, a peace deal between Israel and the Palestinians. He spoke Sunday on ABC's This Week with George Stephanopoulos.
Stephanopoulos: "If the Palestinian people negotiate an agreement with Israel and the Palestinian people vote and support that agreement, a two-state solution, will Iran support it?"
Ahmadinejad (through translator): "Nobody should interfere. Allow the Palestinian people to decide for themselves. Whatever they decide."
Stephanopoulos: "That's all I'm asking. So if they choose a two-state solution ... "
Ahmadinejad: "It is the right of all human beings."
Read more about Ahmadinejad's comments on Sunday
Reaction to this announcement was mixed:
"Absolutely. I think it looks like it's a good step in the right direction, perhaps a small step. Let's verify it. It's that old line, trust but verify. But does it sound good? It sounds like he's moving. And whether that is because of President Obama or changes in the Middle East -- let's wait to see whether or not it's real. Let's verify it." -- Former Reagan White House Chief of Staff Ken Duberstein on CNN's State of the Union
"This fellow remains bipolar. It was only 10 days or so ago he was blasting Israel at an international conference and people walked out. I wouldn't put much in this. If he really wants to show some bona fide: Call off support for Hamas and Hezbollah, which have made it a lot more difficult to get peace in the Middle East between Israel and the Palestinians." -- CNN Senior Political Analyst David Gergen on CNN's State of the Union
The economy was another major topic. National Economic Council Director Larry Summers said that despite recent positive signs the recession was far from over.
"I suspect that the economy will continue to decline for some time to come. ... I do think if you look at the consensus of professional forecasters, that consensus suggests a somewhat better performance towards the end of the year." -- National Economic Council Director Larry Summers on Fox News Sunday Read more about Summers' latest comments on the economy
Summers also defended himself after being photographed falling asleep during a White House meeting.
"President Obama wants us all to fulfill our American dreams, and I guess I was starting that day." --Summers on Fox News Sunday
As you can see, even Sundays have their lighter moments and we had the opportunity to share a bit of what it's like for the new first family to relax out of the glare of the TV cameras when we spoke with White House Chief Photographer Pete Souza.
"I look at my job as a visual historian. I'm trying to document the presidency for history. Certain photographs get released now and we're showing a bunch this week that we want to get out right away, but the most important thing is to create a good visual archive for history. So, 50, a hundred years from now people can go back and look at all these pictures." -- White House Chief Photographer Pete Souza on CNN's State of the Union
A slideshow of the exclusive photos Pete shared with us can be viewed on cnn.com.
E-mail to a friend

All About Barack Obama • Hugo Chavez • Cuba