By Paul Steinhauser
CNN Deputy Political Director






WASHINGTON (CNN) -- Barack Obama heads to Iowa on Wednesday, his first visit as president to the state that gave him his first victory in a long battle for the White House.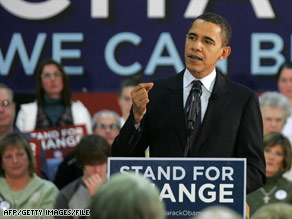 Presidential candidate Barack Obama speaks at Newton (Iowa) Senior High School in December 2007.
Obama travels to Newton, Iowa, where he'll meet with workers at Trinity Structural Towers, a former Maytag plant that now houses a green manufacturing facility producing towers for wind energy production.
The president will "discuss components of his comprehensive energy plan, which include promoting clean energy innovation to help end our dependence on foreign oil" on the 39th anniversary of Earth Day, a White House news release says.
The White House says Obama's proposals will create jobs and help combat global warming.
The president will use the visit to tout how a community can rebuild a local economy with investments in clean energy and to highlight Iowa's role as a leader in wind energy, the White House says.

Watch how the president planned to observe Earth Day »
Obama's January 3, 2008, victory over Hillary Clinton and six other Democratic presidential hopefuls in the Iowa caucuses launched the junior senator from Illinois toward his eventual White House win.
Five and a half months later, near the end of a long and bitter primary battle with Clinton, Obama returned to Iowa. He held a rally in Des Moines as his campaign touted that he had secured at least half of the pledged delegates in the fight for the Democratic presidential nomination. Three weeks later, the primary season was over and Clinton gave up her hunt for the White House.
Obama returned to campaign in Iowa, a battleground state, in July and August and returned one last time October 31, just a few days before the November election.
"On the day of the Iowa caucus, my faith in the American people was vindicated, and what you started here in Iowa has swept the nation," he told a rally in Des Moines. "We're seeing the same turnouts, we're seeing the same people going in and getting in line, volunteers, people participating, a whole new way of doing democracy, started right here in Iowa, and it's all across the country now."
Vice President Al Gore narrowly won Iowa in the 2000 general election, and George W. Bush squeaked out a slight victory in Iowa four years later. Obama captured the state's seven electoral votes by soundly beating Republican John McCain by nine points in 2008.
It's been nearly six months since Election Day, but in some ways, the campaign is not over in Iowa and across the nation. The remnants of Obama's grassroots campaign structure are still around, now under the name Organizing for America, which is part of the Democratic National Committee. The group is holding town hall-style meetings this week across Iowa and in other parts of the nation, to try to energize Americans to support the president's agenda.
And while a 2012 re-election push is still years away, the structure is in place. It may just be coincidence, but most of the states Obama has visited since his January 20 inauguration -- Virginia, Indiana, Florida, Arizona, North Carolina, Ohio, Florida and now Iowa -- are all potential battlegrounds in the next presidential contest.
"The White House doesn't make decisions on presidential visits by chance," said Stuart Rothenberg, editor in chief of the nonpartisan Rothenberg Political Report.

The White House announced Tuesday that the president will visit another potential battleground state -- Missouri -- next week, on the 100th day of his administration.
"Has the next presidential campaign started? No, the last campaign never really ended," added Bill Schneider, CNN senior political analyst.
E-mail to a friend

All About Iowa • Barack Obama • Hillary Clinton • Election Campaigns