From Elaine Quijano
CNN






WASHINGTON (CNN) -- In a hallway lined with portraits of her predecessors, Lisa Jackson is reminded daily of her unique status -- as the first African-American to head up the Environmental Protection Agency.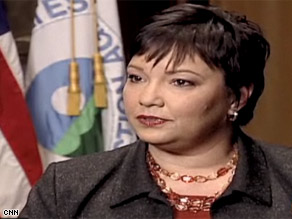 Lisa Jackson is the first African-American to serve as EPA administrator.
"I don't think of it every moment. ... [But] what I hope that we see at the end of this are activists who look like me -- activists who represent the future demographic of our country because that's who's going to be the EPA in the future."
And walking the halls also brings forth a sentimental feeling.
Jackson's father was a postal carrier -- one of the few jobs she says was available to African-American men in the South when she was growing up. He died when she was a teenager, and she's reminded of him often when she's at work. The building housing EPA headquarters originally was built for the then-U.S. Department of Post Office in the 1930s.
But it's also her background as a mother, graduate from Princeton and Tulane universities and an African-American from New Orleans' 9th Ward that she says allows her to tackle the issues facing the environment.

Watch more on Jackson's priorities »
As Hurricane Katrina battered the vulnerable Louisiana city in 2005, Jackson was on the verge of a career change: New Jersey Gov. Jon Corzine asked her to head up the state's Department of Environmental Protection. She says it was a hard choice because Katrina destroyed more than just her family's home -- it destroyed the entire community.
"The shock was feeling that here was a time when I could go back home and give back to that community and help a community that was going be dealing with pollution concerns and cleanup concerns," she says.
"And yet I had to make a pretty significant choice about whether to do that or to stay. And it all came down to at the end of the day to public service. I decided that we can't always choose how we serve -- that helping in New Jersey might not be helping Louisiana, but it was still helping the issue."
In her new role, she's been dubbed part of the "Sisterhood of Obama women," mainly African-American women with powerful positions in the administration.
Others include senior adviser Valerie Jarrett, Deputy Chief of Staff Mona Sutphen, White House Domestic Policy Director Melody Barnes, U.N. Ambassador Susan Rice, White House social secretary Desirée Rogers and deputy White House counsel Cassandra Butts.
Like Obama, Jackson's main message is one of change.
"That EPA is back on the job. And that's not meant to say that the employees who were here all along haven't been working hard, but a lot of that work wasn't allowed to come forth for the American people."
Jackson's first day on the job was a homecoming of sorts -- especially since she spent 16 years as an EPA employee herself.
"I don't walk the halls with security or anything like that, because I want people to feel as though the administrator -- when I get a chance to get away from my desk -- that I'm approachable."
As for her policy priorities, Jackson lists several -- including reducing greenhouse gas emissions and improving air quality.

"We are regulators and this is what we do. ... The message has been that our president has called and continues to call for energy legislation that will be transformative, that in addition to moving our country to a clean energy economy, we'll also create millions of jobs," she said.
Jackson adds: "The way to transform this country and make it ready for the next 100 years is through new legislation that addresses energy, that deals with climate change, that deals with the issues that people are so scared of."
E-mail to a friend

CNN's Ed Hornick contributed to this report.
All About U.S. Environmental Protection Agency • Barack Obama