By Mark Preston
CNN Political Editor





WASHINGTON (CNN) -- President Obama earned high marks for diplomacy during his first overseas trip, and a majority of Americans think that he will return home with some accomplishments in his pocket, according to results of a poll released Monday.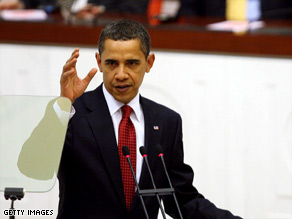 Nearing the end of his first overseas trip, President Obama addresses the Turkish Parliament on Monday in Ankara.
A large majority, 79 percent, said people in other countries will have a more positive view of the United States because of Obama, while 19 percent said it would be more negative, according to the CNN/Opinion Research Corp. poll.
Asked whether Obama has accomplished anything on his trip, 16 percent said that he had accomplished a great deal, while 45 percent thought he had accomplished a fair amount during this trip that took him to a summit with European Union leaders in the Czech Republic, the Group of 20 meeting in England and the NATO summit in France.
"The American public seems to think that Obama's primary achievement on his trip so far was increasing good will rather than winning specific concessions from other countries," said Keating Holland, CNN's polling director.
"Obama seems to have made a good first impression on the world stage, and Americans appear to have noticed."

Watch reactions in Washington to Obama's trip »
The president is in Turkey on Monday meeting with that country's lawmakers.
Obama is concluding his second foreign trip since being sworn in as president. He visited Canada for a day trip in February.

The CNN/Opinion Research poll of 1,023 adult Americans was conducted from Friday through Sunday.
It has a sampling error of plus or minus 3 percentage points.
E-mail to a friend

All About Barack Obama • NATO • Turkey