(CNN) -- President Obama is ending his first overseas trip as U.S. leader with a stop Monday in Turkey after conferring with NATO allies on Afghanistan strategy and meeting with world leaders to tackle the economic crisis.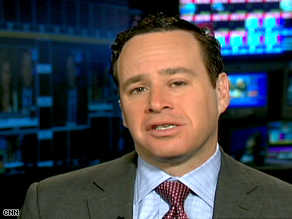 David Frum, an ex-speechwriter for President George W. Bush, questions the success of President Obama's trip.
Monday on CNN's "American Morning," Carol Costello asked David Frum, a former speechwriter for President George W. Bush and founder of the conservative Web site NewMajority.com, to evaluate Obama's success on the trip.
Carol Costello: I wanted to ask this right off the top as far as the difference in styles between President Bush and President Obama. ... What's your [take on] ... the difference between these two men?
David Frum: Well, stylistically, it's the difference between a smooth, creamy and delicious caramel and a spicy jalapeño pepper swallowed whole. Barack Obama goes down easily. President Bush tends to bring a little bit of a sneeze to the nose and tears to the eye.
But on the substance, Barack Obama did not achieve very much on the trip. And we're all being very polite saying the president didn't get everything he wanted, he got a little bit more help. In fact, he got nothing that he wanted. He went to Europe. ... amFIX: Your take on Obama's trip
Costello: So does style not make a difference then?
Frum: I think the style does make a difference. And obviously, good relations are always to be preferred to bad. And America does have an image in the world, and President Obama has contributed to, I think, improving that, partly by criticizing his predecessor.
His humility is not so much self-criticism, it's criticism of George Bush. But why shouldn't he join in that sport, too?
Costello: Well, David, some might say. ...
Frum: But substantively, he went there with two "asks." He went there to ask for European governments to run up their deficits in order to do fiscal stimulus to match America's and for a big contribution of troops to Afghanistan. And he got neither. He got zero.
Costello: Some might say, David, that this is a first trip for a new president. He's new in office. And what can you expect from a first time?
Frum: I would say that people who say that don't understand how these trips work. Barack Obama will never be more powerful than he is right now. From here on, it's all downhill. An American president's first request is always going to be his most honored request. So, if he is not able to get what he wants financially or in terms of troops now, he's not going do better six months from now or a year from now. He's going to do worse.

Watch Frum's thoughts on Obama's trip »
Costello: He's in Turkey right now, and he's going to be speaking before the Turkish Parliament. Of course, it's a largely Muslim country. What should he say?
Frum: I think he needs to be very careful about having a specifically Muslim appeal. He needs to speak to Muslim Turks the way he speaks to secular Christian Europeans. He needs be to very careful because there's a risk if you make a distinctively Muslim appeal that you will find yourself agreeing to a definition of what it means to be Muslim that comes from some of the more strident people in the Islamic world.
Costello: Do you [think] that Turkey will help us out with more troops in Afghanistan?
Frum: No. No one will. ... I mean, beyond a few scattered selected people and some training missions, this is going to be a war that is much more America's war now than it has been until now. And the question that Americans have to confront is is the investment Barack Obama is making in Afghanistan -- is it too big or too little? There's a real risk that he's putting in a very big investment but not big enough to achieve his ends. And if you send short of enough, then maybe you've sent too many.
Costello: Well, you know, Washington is making a big deal of this money that it's getting from, you know, France to train police officers within Afghanistan or to train Afghan troops. Would that be enough? Because isn't that part of the reason that America had some success in Iraq because they were able to train Iraqi forces to take over security in that country?

Frum: I had the good fortune to visit Afghanistan in the fall, to visit the NATO missions there. The problem of police training is, I mean, money might make a difference.
But their problems with the Afghan police are embedded in the very structure of that force and nature of that country. It would take a massive undertaking to improve the Afghan police force. A few additional French trainers are not going to make a difference, especially because they now have trainers from half a dozen different countries, and that in itself is a big part of the problem.
E-mail to a friend

All About Barack Obama • George W. Bush • Afghanistan