From Ted Barrett
CNN Congressional Producer





WASHINGTON (CNN) -- A key Democratic senator said Tuesday that he's not ruling out a controversial budget procedure to speed passage of President Obama's health care and global warming legislation.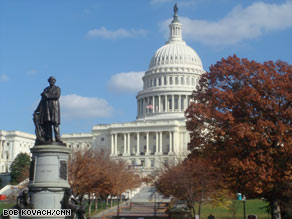 The House and Senate are expected to pass separate versions of the budget by the end of the week.
"It could happen," said Finance Committee Chairman Max Baucus, D-Montana, despite his repeated concerns that doing so would damage bipartisan cooperation in the Senate.
The fast-track procedure -- called "reconciliation" -- would prevent Republicans from filibustering the health care and global warming bills, which Baucus' committee helps write.
At the confirmation hearing for Health and Human Services nominee Kathleen Sebelius, Wyoming Republican Sen. Mike Enzi said, "I'm afraid that if that reconciliation winds up in the budget bill, it'll be like a declaration of war."
He was responding to Sebelius's remark that based on her preliminary discussions with members of Congress, "there is an interest in not taking any tools off the table prematurely."
Baucus said reconciliation is not his first -- or second -- choice, but added, "I'm not flat opposed to it either."
Baucus is the second key Senate Democrat in two days to suggest the procedure might be used to pass the policy reforms over GOP objections.
On Monday, Budget Committee Chairman Kent Conrad, D-North Dakota, suggested he might not be able to prevent the adoption of reconciliation. Like Baucus, Conrad has spoken out against using the method to move major reform bills.
House Democratic leaders and the White House have expressed interest in using reconciliation, as have key Senate Democratic leaders such as Majority Leader Harry Reid of Nevada.
"I don't know why everyone is up in arms," Reid said Tuesday, explaining to reporters that reconciliation has been used 19 times in recent years by Congresses controlled by both parties.
Also Tuesday, a letter signed by all Republican senators was distributed to Democratic Hill leaders urging them to forgo reconciliation to pass health care saying doing so "would make it difficult, if not impossible, to gain broad, bipartisan support" for the bill.
The House and Senate are expected to pass their separate versions of the budget by the end of the week. The effort to merge the two bills will take place in the next few weeks, with final passage expected by the end of April.
E-mail to a friend

All About U.S. Senate • U.S. House of Representatives