(CNN) -- Americans don't favor handing billions more dollars to U.S. automakers, polls show. To some, it's another example of government helping Wall Street instead of Main Street, but for others, it's simply bailout burnout.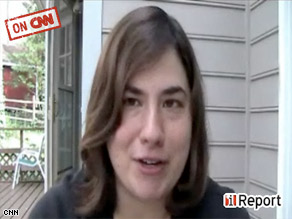 CNN iReporter Adriana Maxwell thinks GM is "a colossal mess"
Shortly after President Obama announced he would give Chrysler and General Motors time to "restructure in a way that would justify an investment of additional taxpayer dollars," iReporters let their sentiments be known.
"Flushing our money down the toilet," opined one.
"GM Motors? Forget about them!" barked another.
CNN senior political analyst David Gergen warned this might happen. Earlier this month, after Obama echoed the nation's "outrage" over a report that AIG would dole out $165 million in bonuses, Gergen predicted the controversy would set the tone for future bailouts.
Almost 80 percent of AIG belongs to U.S. taxpayers, and the insurance giant has been one of the biggest beneficiaries of government efforts to repair the economy.
"I think the president is in an awkward position because he wants and he may need to continue bailing out big banks, big institutions, the car companies," Gergen said at the time.
"But there's so much anger over this that people may say: 'The hell with it. I don't care what happens to these people. Let them go. They are abusing us. They're taking our money and exploiting it,'" he said.
Americans are split on Obama's handling of problems facing the U.S. auto industry, according to a recent poll, but another poll firmly states that the nation is adamantly opposed to handing more money to the automakers.

Watch Obama discuss his plan for the auto industry »
The CNN/Opinion Research Corp. poll was conducted prior to the latest news that GM CEO Rick Wagoner will step down at the White House's request. The poll also preceded news Monday that the Obama administration frowned on GM and Chrysler's turnaround effort and was seeking massive overhauls of the companies.
The poll, which had a sampling error of plus or minus 4.5 percent, said 49 percent of respondents disapproved of Obama's handling of the auto industry, compared to 46 percent who approved of the administration's efforts. The poll was conducted March 12-15.
The results presented a contrast to two questions posed last month, in which respondents said they were opposed to government assistance for car companies and overwhelmingly doubtful that auto executives could make the right decisions.
"Americans tend to favor government assistance to individuals, such as homeowners in danger of foreclosure," said CNN Polling Director Keating Holland. "But they don't like the idea of federal money going to big institutions like automakers or banks."
Last month's poll, conducted February 18-19 with a sampling error of plus or minus 3 percent, showed that 61 percent of Americans opposed giving money to the automobile manufacturers; 37 percent favored it. And 74 percent said they had little faith in auto executives; 26 percent said they felt executives would make sound economic decisions.
In a Gallup poll conducted around the same time, seven in 10 people opposed an auto bailout.
GM already has received more than $13 billion in federal assistance. Chrysler has taken about $4 billion. Last month, both companies asked for more. GM wanted $16 billion, and Chrysler requested $5 billion.
Obama announced plans for the companies Monday.
GM will have 60 days and Chrysler 30 days to prove they can be viable. They're both promised loans if they can, and they'll receive capital in the meantime.
Chrysler, which the administration is pushing to partner with Italy-based Fiat, could receive up to $6 billion, but administration officials would not say how much money GM could receive.
It's unclear what will happen if the companies can't prove themselves to be worthy of loans, but the Obama administration has said a structured bankruptcy is a possibility.

Though Obama's approval rating earlier this month stood at 64 percent, the CNN/Opinion Research Corp. poll shows that Americans are far less enamored with the president's performance in dealing with Detroit.
"Obama's policies toward banks and auto companies are the only areas on which he does not get majority approval," Holland said. "On the other hand, the public has much more confidence in the Obama administration than in auto executives when it comes to making the right economic decisions."
E-mail to a friend

All About Barack Obama • General Motors Corporation • Chrysler LLC