By Mark Preston
CNN Political Editor





WASHINGTON (CNN) -- As Republicans wrangle over the ideological direction of the party, a new generation of conservatives is reaching out to GOP activists and honing the use of a 21st century megaphone to promote Republican policy goals through new media networking tools.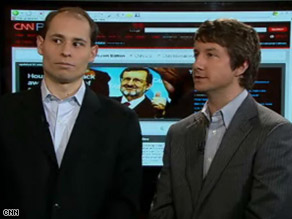 Patrick Ruffini, left, and David All are on the cutting edge of an evolving medium to connect with supporters.
Republicans received a wake-up call in 2008 after President Obama raised a historic sum of campaign cash and organized supporters like never before by mastering the power of the Internet.
Within days of losing the White House and additional seats in the House and Senate, prominent blogger and new media consultant Patrick Ruffini unveiled a Web site dedicated to helping restore the GOP to power.
The No. 1 priority listed on www.rebuildtheparty.com: "Winning the technology war with the Democrats."
"We kind of took a step back and said, 'Look, we're going to have a long debate over a number of years over where this party should go, where we should stand ideologically,' " Ruffini said. "But here's some basic steps that we can take now to re-engage our grassroots base and to rebuild our party infrastructure and to recruit new leaders so that when we have that ... unifying purpose ... we will be ready to go."

Watch more on technology and the Republican Party »
Ruffini and fellow blogger/new media consultant David All are on the cutting edge of a constantly evolving medium that includes long-form analysis through blogging to fast-paced snippets known as "tweets." Related: The challenge for liberal bloggers
Politicians no longer have to rely solely on the traditional media such as newspapers and TV to report on their activities. Politicians are increasingly using social networking tools such as Facebook and Twitter to connect with political supporters and constituents.
Last month, Republican National Committee Chairman Michael Steele convened a "Tech Summit" in Washington with a goal of "advancing the GOP's technology efforts."

It is one of the many challenges facing Steele, who is charged with drafting and executing a plan to rebuild the party. All said that Steele's decision to hold the summit was a "clear sign" the new chairman understands technology is vital to a winning strategy.
"What that really did was for the first time kick open the doors to people like Patrick and myself and citizens throughout the country," All said.
E-mail to a friend

All About Republican Party