WASHINGTON (CNN) -- The ailing economy. Health care. Bank bailouts. Troop deployments. Is President Obama juggling too many balls? A new national survey indicates the answer is yes.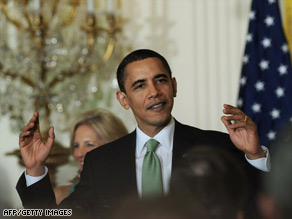 President Obama, according to those polled in a new survey, has been busier than they are comfortable with.
Fifty-five percent of the people questioned in a CNN/Opinion Research Corporation survey released Wednesday say that since he's taken over in the White House, Obama has tried to handle more issues than he should have. Forty-three percent say he hasn't bitten off more than he can chew.
"In his first weeks in office, Barack Obama did not focus exclusively on the economy, but instead announced new policies and proposals on everything from education to health care to Afghanistan and Iraq," says CNN Polling Director Keating Holland. "He gets high marks on most of those issues, but it seems that many Americans are worried that he might lose his focus on economic recovery."
On Tuesday, Obama responded to criticism that he's trying to do too much, saying, "What I say is that the challenges we face are too large to ignore."
"To kick these problems down the road for another four years or another eight years would be to continue the same irresponsibility that led us to this point. That's not why I ran for this office. I didn't come here to pass on our problems to the next president or the next generation. I came here to solve them," Obama said.
The poll also suggests that a majority of those questioned, 58 percent, feel that the president's programs are just about right for the country. Around 36 percent say Obama's proposals are too liberal, and 5 percent say they are not liberal enough.
On the issues, 59 percent say they approve of how the president is handling the economy, 57 percent like how Obama's dealing with health care, 63 percent approve of how he's handling energy policy and 65 percent back him when it comes to education reform.
Of those polled. 66 percent like how Obama is dealing with foreign affairs, with 63 percent approving of how the president is handling Iraq, 67 percent agreeing with him on Afghanistan and 61 percent approving of how he's handling terrorism.
"Obama tends to get better numbers for his handling of international issues than on domestic problems," Holland says. "That's a typical pattern for many presidents, who can handle foreign policy concerns without always having to push something through Congress."
The CNN-Opinion Research Corporation poll was conducted Thursday through Sunday with 1,019 adult Americans questioned by telephone. The survey's sampling error is plus or minus three percentage points.
E-mail to a friend

All About Afghanistan War • National Economy • Health Care Issues • Barack Obama