WASHINGTON (CNN) -- A line of businessmen, students, Code Pink protesters and union members stretched down the hall and around the corner in the Rayburn House Office Building.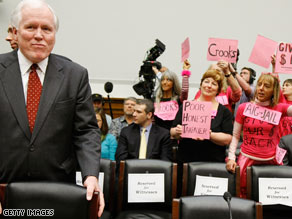 Code Pink protesters stand up behind Edward Libby at the hearing Wednesday.
Reporters and camera crews jammed in the open space to get footage of the scene, described by witnesses as much like a circus.
They were there to see American International Group Chairman and CEO Edward Liddy testify Wednesday before the House Financial Services subcommittee about the $165 million in bonuses paid to executives of his bailed-out company.
As far as hearings go, this was the hottest ticket in town.
Liddy has become the face of AIG as uproar over bonuses paid to executives of the troubled company has spiraled. He took over the company just six months ago, after contracts which dictated the bonuses were written. Lawmakers, looking for any chance to defend their role and clear their names of guilt, were not expected to go easy on Liddy as they grilled on him about the payments.
Liddy planned to tell the lawmakers that he found the company's controversial bonuses "distasteful," but necessary because of legal obligations and competition, according to a written copy of his testimony.
He has said that the bonuses were necessary because of contractual obligations and also in order to retain top talent.
The line to witness the drama play out appeared longer than that of last month's much publicized bank CEO hearing.
Don't Miss
A Capitol police officer warned the boisterous crowd in the hallway to "keep the chatter down" to not distract those inside the hearing.
Despite the long line, the hearing room appeared full, with the exception of a few seats being saved for AIG staff members who were coming and going.
As opening remarks began, the audience inside was silent and engaged, anxiously awaiting the arrival of the day's headliner.
Scott Sommerfield, 58, a landscape architect from Oakland, California, was in Washington visiting friends and decided he needed to see Liddy explain the AIG bonuses.
"I just think it's outrageous that at a time when so many are making sacrifices that these executives would get these bonuses," said Sommerfield, one of the few in the room wearing blue jeans. "Hopefully they'll be able to keep that money in the Treasury."
A handful of women inside the hearing were from Code Pink, a grassroots anti-war group.
When the hearing broke for recess they started speaking loudly about the cracking down on AIG. They raised signs that said "Fire AIG."
Code Pink members acknowledge that the group was started to protest war but said that this financial crisis was tied into the world's problems and worthy of protest also.
They had a group of more than 20, with some arriving at the House office building at 5 a.m., but not everyone got in.
Code Pink member Cynthia Benjamin of Mount Vision, New York, drove to watch the hearing because her city has been particularly hard struck by the recession. The hospital she works at briefly closed for financial reasons and then reopened as an emergency room only.
"So many have given up their bonuses and so many have lost their jobs, it's an insult for people at AIG to take those bonuses," said Benjamin, whose 31-year-old son is on his second deployment in Iraq. "My town is hurting and it's only going to get worse. The only real jobs are with the military."

In the lead up to Wednesday's hearing, the verbal war on AIG has grown so toxic that some AIG employees are afraid to even show up for work, sources tell CNN.
With the Liddy watch at fever pitch, that war was only expected to rage on as Wednesday's events played out.
E-mail to a friend

CNN's Brianna Keilar, Deirdre Walsh and CNNMoney's Jennifer Liberto contributed to this report.
All About American International Group Inc. • Edward Liddy