From Dana Bash and Ted Barrett
CNN





WASHINGTON (CNN) -- Democratic leaders scrambling to strip AIG executives of bonuses are having a hard time answering a key question: Why didn't Congress act to prevent the bonuses in the first place?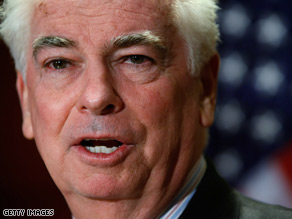 Sen. Chris Dodd says he has no idea how the exemption clause got inserted into the recent stimulus bill.
"There's always more we can do, and hindsight is 20/20," said Senate Majority Leader Harry Reid Tuesday.
But though some lawmakers did move to prevent bonuses in the stimulus bill last month, the final language actually makes an exception for pre-existing contracts, effectively exempting AIG.
Senate Banking Committee Chairman Chris Dodd, D-Connecticut, who originally proposed the executive compensation provision, said he did not include the exemption clause, which said new rules "shall not be construed to prohibit any bonus payment required to be paid pursuant to a written employment contract executed on or before February 11, 2009."
In an interview with CNN, Dodd denied inserting that exemption at the 11th hour, and insisted he doesn't know how it got there.
"When I wrote the language there was no such language like that," Dodd told CNN Tuesday.

Who's insured by AIG? »
Multiple Senate Democratic leadership sources also deny knowing how the exemption got into the bill.
The mystery isn't just how what was effectively a protection for AIG was put into the stimulus bill -- it's also how a provision intended to prevent AIG from giving executive bonuses, was taken out.

See a snapshot of facts, attitudes and analysis on the recession »
The Senate passed a bipartisan amendment proposed by Sen. Olympia Snowe, R- Maine, and Sen. Ron Wyden, D-Oregon, that would have taxed bonuses on any company getting federal bailout dollars, if the company didn't pay back the bonus money to the government.

Watch congressional reaction to AIG bonuses »
But the idea was stripped from the stimulus bill during hurried, closed-door negotiations with the White House and House of Representatives.
Road to Rescue: CNN Survival Guide
Unprecedented reporting on the money meltdown that's changing your life
This week on CNN

Senate Finance Committee Chairman Max Baucus, D-Montana, who is now pursing a similar bonus tax idea in the wake of outrage over AIG, said it was a mistake to drop it from the stimulus bill. He made a stunning admission.

Watch why Americans are angry »
"Frankly it was such a rush -- we're talking about the stimulus bill now -- to get it passed, I didn't have time and other conferees didn't have time to address many of the provisions that were modified significantly," said Baucus.
"We shouldn't be here. That should have passed, but it didn't," he said.iReport.com: Sound off on AIG
Snowe chastised colleagues for expressing outrage about AIG's bonuses, when just last month they did away with her amendment intended to prevent it.

"We tried. It simply didn't happen, and that's a tragedy, given what's happened today," Snowe told CNN in an interview.
Majority Leader Reid would not directly answer a question from CNN about whether that was a mistake.
E-mail to a friend

All About Timothy Geithner • American International Group Inc.