SAN FRANCISCO, California (CNN) -- The California Supreme Court began hearing arguments Thursday in a case that could determine the fate of same-sex marriage in the state, as well as the validity of about 18,000 same-sex marriages.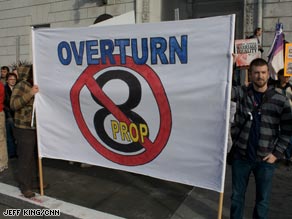 Demonstrators hold signs outside the California Supreme Court hearing in San Francisco on Thursday.
The court is tackling the constitutionality of Proposition 8, a measure banning same-sex marriage that voters approved in November.
Its opponents are seeking to have the amendment nullified. They maintain Proposition 8 alters the state constitution and therefore, under state law, is a revision that requires a constitutional convention.
The state Supreme Court ruled in May that the California Constitution allows same-sex couples to marry.
Arguments on Thursday took place in a packed courtroom. Because of heavy interest in the hearing, officials installed big-screen televisions to accommodate onlookers in the court auditorium, which seats about 200.
More than 60 friend-of-the-court briefs have been filed in the case, a court spokeswoman said.
Hundreds of demonstrators gathered in San Francisco's Castro District on Wednesday night to push for the court to reinstate same-sex marriage in California.

Watch scenes from a rally in San Diego »
Also Wednesday, a huge crowd marched on the state Supreme Court building in San Francisco. The gathering was mostly peaceful, police said. iReport.com: Hundreds rally against Prop 8
Proposition 8 passed with about 52.5 percent of the vote, making California one of several states to ban same-sex marriage in the November 4 elections. But unlike others, California had been issuing marriage licenses to same-sex couples since the state Supreme Court ruled on May 15 that the unions were legal.

Along with determining the constitutionality of Proposition 8, the court also will determine whether the approximately 18,000 same-sex marriages conducted before the ban are still valid.
A ruling in the case is due within 90 days.
E-mail to a friend

All About California • Same-Sex Marriage • Gay and Lesbian Relationships