WASHINGTON (CNN) -- President Obama said Tuesday that reports of a U.S. offer to kill a proposed missile defense system in exchange for Russian assistance in preventing Iran's acquisition of nuclear weapons were inaccurate.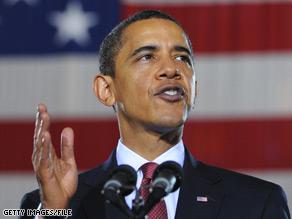 President Obama says there was no quid pro quo regarding a proposed Eastern European defense system.
Obama acknowledged he had sent Russian President Dmitry Medvedev a "very lengthy letter talking about a whole range of issues," including nuclear proliferation and terrorism, but said there was no quid pro quo regarding the proposed defense system in Eastern Europe.
"What I said in the letter was that, obviously, to the extent that we are lessening Iran's commitment to nuclear weapons, then that reduces the pressure for -- or the need for -- a missile defense system," Obama said.
"It was simply a statement of fact that I've made previously, which is that the missile defense program, to the extent that it is deployed, is designed to deal with not a Russian threat, but an Iranian threat."

Watch Obama clarify letter »
Obama warned, however, that while the United States needed to "reset or reboot" its relationship with Russia, Russian leaders also needed "to understand our unflagging commitment to the independence and security of countries like a Poland or a Czech Republic."
Obama made his comments during an Oval Office meeting with British Prime Minister Gordon Brown.
At a news conference at the Pentagon on Tuesday, Defense Secretary Robert Gates said the U.S. is open to starting a new dialogue with Russia and working with it to persuade Iran not to go ahead with its ballistic missile program.

Watch Iran call concerns about its nuclear program unfounded »
"I told the Russians a year ago that if there were no Iranian missile threat, that there would be no need for the [missile defense system] in Europe," Gates said.
"We have talked with the Russians before [about] incorporating them in a partnership that makes them a full partner in missile defense, because the reality is that the missiles that the Iranians are testing can reach a good part of Russia, as well as Eastern Europe and part of Western Europe," he said.
Several administration officials said earlier Tuesday that Obama's letter suggested that Russia could have a role in reducing Iran's nuclear threat, and therefore could dissuade the United States from going forward with its plans to establish a missile base in Poland and a radar facility in the Czech Republic.

See how missile defense works »
The Kremlin, reacting to reports about the letter, said there was no quid pro quo. A Kremlin spokesman told CNN the letter from Obama was a response to a letter from Medvedev, congratulating Obama on his inauguration and outlining important areas of relations -- including Iran and missile defense -- that should be tackled.
Medvedev said the letter was positive, and that he appreciates the speed with which Obama responded, the spokesman said. But the spokesman also said the letter did not suggest a link between Russian assistance to limit Iran's nuclear program and the plans to construct missile defense facilities in Eastern Europe.
Obama administration officials also said the president wrote the letter in response to one from Medvedev; a senior U.S. diplomat hand-delivered it during a visit to Moscow three weeks ago, one official said.
Ending the missile defense system, one official said, is not contingent on having Moscow's help. Even if Moscow did help, he said, but was unsuccessful in stopping Iran from nuclear arms development, "the missile defense program goes through."

Watch why the U.S. thinks Iran can make a nuke »
The official denied a report in The New York Times that the letter was "secret." Calling the Times report "hyped," the official said the letter was "widely distributed to U.S. agencies" after it was delivered, in an effort to keep those agencies informed and to help them coordinate policy.
"It was extra-open," the official said. "The notion of a secret letter," he said, "is irritating. ... It suggests a secret deal between Russia and the U.S." which, he said, is not the case.
The letter's content reflects public statements by Secretary of State Hillary Clinton.
On February 10, in an appearance with Czech Foreign Minister Karel Schwarzenberg, Clinton signaled that the United States might rethink plans for a missile defense shield in Europe if Iran decides against pursuing nuclear weapons.
"If we are able to see a change in behavior on the part of the Iranians, then we will reconsider where we stand, but we are a long, long way from seeing such evidence of any change in behavior," Clinton said at the time.

Senior State Department officials acknowledged then that the Obama administration, in a shift from the policy of the Bush administration, was focusing on the Iranian threat in an effort to persuade Russia to help the United States counter it.
Iran has denied it has a nuclear weapons program. It insists that its program is peaceful and intended to produce nuclear power for the Islamic republic.
E-mail to a friend

CNN's Matthew Chance, Jill Dougherty, Suzanne Malveaux, Mike Mount and Alan Silverleib contributed to this report.
All About Iran • Dmitry Medvedev • Barack Obama