(CNN) -- California Gov. Arnold Schwarzenegger said the budget package passed by state lawmakers early Thursday is "the perfect medicine for our ailing economy."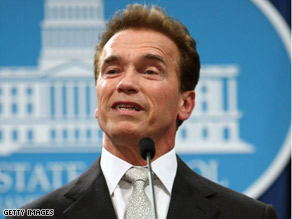 Gov. Arnold Schwarzenegger praised California lawmakers for breaking a stalemate over the budget.
The measure, which awaits the governor's signature, is aimed at closing a $42 billion state deficit through tax increases, spending cuts, borrowing and increased government efficiency.
"It will boost public confidence in California, reassure the financial community and allow us to resume selling our bonds and rebuilding our state," Schwarzenegger said at a news conference at the Capitol in Sacramento, California.
The plan contains $14.9 billion in cuts, most of them from the state's most expensive budget items, primarily education, health and human services, the judiciary and state workers and employee compensation, Schwarzenegger said.
Schwarzenegger said all revenue increases are temporary. Among them are new and increased taxes on sales, vehicles and personal income. More revenue will be contributed by the state lottery.
The legislative measure also contains an economic stimulus package that includes plans to use public-private partnerships for state construction projects. That will save money and get projects done more quickly, Schwarzenegger said.
The governor, a former actor, said his favorite part of the stimulus package are incentives for movie and television production to remain in California.
Don't Miss
The state Senate approved the budget package during a grueling overnight session after lawmakers agreed to demands from a holdout Republican senator. It was then passed speedily by the state Assembly.

Watch how the deadlock was broken »
A stalemate over the budget during negotiations had caused Schwarzenegger to declare a fiscal emergency and send layoff notices to 10,000 state workers.
Lawmakers said that without a new budget, 276 public works projects would have been halted Thursday, an additional 10,000 state workers could have received layoff notices and California might not have benefited from parts of the federal economic stimulus package.
Some items in the budget package will be put before Californians for their approval, including a proposal that the state hold more open primaries. Under that system, people wouldn't be required to register with a political party to vote in its primary.
Schwarzenegger lauded Republicans and Democrats who came together to pass the measure. iReport.com: What you'd fix first
"I know how difficult it was. Our budget crisis required Democrats to compromise on the opposition to spending cuts, it required Republicans to compromise on their fierce opposition to tax increases," the governor said.
Democrats in the Senate needed one Republican vote for passage. Sen. Abel Maldonado, a Republican, agreed to vote for the measure in exchange for various demands, including that the open-primary plan be included. Lawmakers worked to meet the demands to get his support.
Speaking on the Senate floor, Maldonado said the passage of the budget was imperative for people across the state, even if it would imperil his political career.
"This might be the end for me, but this vote ensures that it's not the end for the state of California," he said before the Senate vote.
Both sides resisted pressure from special interest groups, Schwarzenegger said.
"There was tremendous pressure on the legislators from the special interests who care only about one thing: what is best for them, not what is best for California," he said.
In a statement released earlier Thursday, Schwarzenegger said, "Rather than approaching this unprecedented crisis with gimmicks and temporary solutions, we took the difficult but responsible steps to address our entire $42 billion budget deficit and pass historic bipartisan reform measures."
Schwarzenegger said he is pleased that his budget proposal served as a blueprint for this spending plan.
"This is a very difficult budget, but we have turned this crisis into an opportunity to make real, lasting reforms for California," he said.
U.S. Sen. Barbara Boxer, D-California, was there Wednesday morning, reminding lawmakers that Democrats in the U.S. Senate were able to get just enough Republican votes to pass President Obama's $787 billion stimulus plan.

Interactive: See where the stimulus money is going »
"We have to put aside all this ego and put the people of California first," Boxer said. "The people of California do not deserve the fate they will receive if it is not passed."

The California Legislature was one of several to meet this week to address budget concerns in a time when 43 states are starting the year short on funds, according to the National Conference of State Legislatures.

Map: See projected state budget gaps »
"This is an equal-opportunity recession. States in virtually every part of the country are suffering. ... Even the energy states are starting to report problems," Corina Eckl of the National Conference of State Legislatures said.
E-mail to a friend

All About Arnold Schwarzenegger • California