By Mark Preston
CNN Political Editor





CAMBRIDGE, Massachusetts (CNN) -- Former presidential candidate Ron Paul criticized President Obama's economic recovery proposal but said Saturday that blame for the financial crisis is deep-seated and includes Republicans who failed to hold the line on spending during the Bush administration.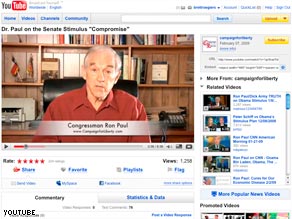 In a video, Rep. Ron Paul criticized "born-again budget conservatives."
He also offered a harsh critique of the three Republican senators who have said they will vote for the economic recovery proposal. A vote is scheduled for early next week.
Paul, a Republican representative from Texas who sought the GOP nomination for president, said that although some people call Obama's plan to jumpstart the economy a "stimulus package," he thinks it is a "pure spending package."
The message came on a video posted on YouTube.
Paul praised his fellow House Republicans for unanimously voting against the plan but expressed disappointment that three Senate Republicans "caved in and went with the Democrats."
He didn't mention the GOP senators by name but was referring to Sens. Susan Collins and Olympia Snowe, both of Maine, and Sen. Arlen Specter of Pennsylvania.
Don't Miss
In the video, Paul said he wondered whether Republican opposition to the spending is too little, too late.
"It is like they're born-again budget conservatives," Paul said. "Where were we in the past eight years, when we could have done something? And you see our last eight years that has set this situation up. So we can't blame the Democrats for the conditions we have.
"We have to blame both parties and presidents of the last several decades to have generated this huge government."
Paul said that he agrees that the economy needs to be stimulated but that he doesn't think the federal government should be doing it.
"Sure, we want more spending," Paul said. "We need a lot more spending in the economy, but it has to be done by market forces, by individuals, by businesses making proper decisions."
The stimulus package, which is expected to come in at about $827 billion when the Senate votes, includes tax cuts and credits and spending on infrastructure, education and other projects that supporters say will create and save jobs.
E-mail to a friend

All About Ron Paul • Barack Obama • National Economy