WASHINGTON (CNN) -- Facing a potential backlash over his administration's policies for handling terror-suspect detainees, President Obama met privately Friday with 40 family members of victims of both the October 2000 USS Cole bombing and the September 11 attacks.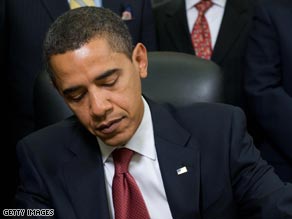 President Obama spoke with each family member he invited to the White House on Friday.
In a personal and emotional meeting, the president offered hugs for some family members along with explanations for his decision to close the U.S. prison camp at Guantanamo Bay, Cuba, and -- in a legal maneuver that does not end the case -- to drop charges against Cole bombing suspect Abd al-Rahim al-Nashiri.
Lorrie Triplett, whose husband, Andrew, died in the Cole bombing, said the president met with the group for an hour, telling them that the administration was in the process of reviewing the cases to determine the next move. But he assured the families that "those who need to be detained will stay and those that don't need to be [detained], released," Triplett said.
The president assured the families of Cole victims that al-Nashiri would not be released and that his trial will go forward, although he told them that the trial's jurisdiction -- military or federal -- had not been decided, Triplett said.
"We were glad to hear that," Triplett said of the news that al-Nashiri would remain in custody and go to trial.
In a statement, the White House said Obama "made it clear that his most important responsibility is to keep the American people safe."
"He explained why he believes that closing Guantanamo will make our nation safer and help ensure that those who are guilty receive swift and certain justice within a legal framework that is durable, and that helps America fight terrorism more effectively around the world," the statement said.
The discussion that followed was "highly substantive, detailed and at times emotional," the statement said.
Before the meeting, Louge Gunn, whose son Cherone was one of the 17 sailors killed in the Cole bombing, said he does not want a delay in al-Nashiri's trial
"I would rather they would proceed. We've been waiting nine years. I am sick and tired of waiting. If they have the evidence, then take him to trial and prosecute him," said Gunn, who said he supported Obama during the election and has met him before.
Referring to any further delay, he added, "that is not going to help my family with closure."
Delay aside, Gunn would prefer the trial be brought to the United States.
"Bring him to the United States and try him here where I can go to the trial, where I can see him," Gunn said.
In dropping the charges against al-Nashiri while retaining the right to resubmit them, the Pentagon was complying with Obama's order to halt all court proceedings at Guantanamo for four months.
The order, issued by Obama on his first day in office, required prosecutors to seek delays in the 14 active cases before military commissions there. A judge had initially ruled that the arraignment of al-Nashiri -- who remains a "high-value" detainee at the Guantanamo detention center -- was to go ahead as scheduled Monday.
Several victims' families, however, have indicated their support of the new administration's policies.
Valerie Lucznikowska, a member of the group September 11 Families for Peaceful Tomorrows, planned to present Obama with a letter signed by more than 100 people who lost relatives in the September 11 attacks.
"We support your decision to close the prison at Guantanamo Bay, Cuba, and to end the Military Commissions that are being conducted there. It is our belief that these proceedings violate not only our own Constitution, but the Geneva Conventions and International Humanitarian Law, putting into question the validity of any verdict," the letter reads.
"We are deeply troubled that the Guantanamo proceedings have not only denied the detainees their rights as human beings, they have tainted the reputation of this country around the globe."
Triplett traveled to Washington with her two daughters -- Andrea, 16, and Savannah, 12 -- from Suffolk, Virginia, for the meeting. She said she appreciated the opportunity especially since the Cole families never got to meet with former President Bush.
"I never in my life thought I'd be sitting two feet from the president," she said, adding that he spoke to each person in attendance.
"He hugged everybody that wanted a hug from him," Triplett said. She wanted a hug.
"I am glad you are here," Obama said to her.
Triplett said the tone of the meeting was "somber" and "appreciative" but not angry, even though some people expressed opposition to closing Guantanamo.
"He said nobody could understand the pain we have been through," she said.
Obama told the group that there would be an "open door" to the White House for them to get information and talk to staff, she said.
E-mail to a friend

All About Guantanamo Bay • USS Cole • September 11 Attacks