By Lisa Desjardins
CNN






WASHINGTON (CNN) -- The recent debate over the nearly $900 billion economic stimulus plan and revelations of tax problems by three Obama administration appointees have voters angrily jamming phone lines on Capitol Hill to air their frustrations to their elected representatives.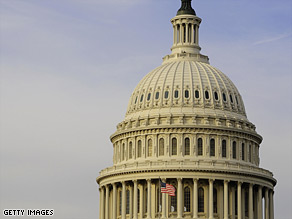 Voters are calling several congressional offices, complaining about stimulus negotations.
Their reactions are putting pressure on Congress and benefiting watchdog groups on both sides of the political aisle.
Capitol operators tell CNN Radio that phone lines have been jammed for the past two weeks, sometimes prompting busy signals.
A spokeswoman for Sen. Jim Webb, D-Virginia, said calls on the sweeping stimulus plan jumped from eight during all of January to hundreds a day now.
In a sampling of 12 Senate offices, half had so many messages that their voicemail boxes were full.
It's because of people like Betty Davidson.
"I'm very upset!" exclaimed the 63-year-old from Laguna Hills, California.
She called her senators Tuesday, frustrated with the almost $900 billion-dollar economic recovery proposal.

Watch more on the stimulus debate in the Senate »
"What a joke!" she said.
But she is particularly incensed by news that Treasury Secretary Tim Geithner and former Obama appointees Tom Daschle and Nancy Killefer didn't pay their taxes properly in the past.

Watch more of Obama's plan for the economy »
"They can make the laws, but they don't have to abide by the laws," she complained. "It's only we taxpayers."
Those bitter words are like spring rain to nonprofit watchdog groups across the spectrum, who are seeing big boosts in interest.
"Just in the last week ... responses to our e-mails out to activists have jumped dramatically," said Grover Norquist, president of the conservative Americans for Tax Reform. "We've had more calls into our offices, more e-mails."
That same spike has hit Citizens Against Government Waste, which is also seeing a surge in e-mails, calls and angry posts to its Web site.
"These people are almost feeling like suckers now for paying taxes, because no one else does," said the group's vice president, David Williams.
He sees the tax issues and stimulus bill as hair triggers after months of frustration over bailouts, Wall Street greed and whether the rich and powerful get special treatment.
"In the past week, we have gotten numerous e-mails from people talking about how the interest rates on their credit cards are going up even though these companies have received taxpayer bailouts," he said, "and they don't understand why they're not feeling any relief."
At the left-leaning Citizens for Responsibility and Ethics in Washington, Deputy Director Naomi Seligman said that whenever a well-known politician, such as Daschle or Geithner, is involved in an ethics question, it does raise some interest for them.
Seligman suggested that tax issues are raising the greatest ire.
"I think the average American is looking at their taxes during tax time and saying 'Wow, I pay my taxes. Why aren't these guys?' " she said.

That's certainly how Davidson feels. She's worried about shoveling debt onto her grandkids from the stimulus bill, and she is convinced Washington is corrupt.
"I'm just getting so sick and tired," she said.
E-mail to a friend

All About U.S. Congress • Barack Obama