From Brian Todd
CNN






WASHINGTON (CNN) -- Former Sen. Tom Daschle's decision to withdraw his nomination to head the Department of Health and Human Services has observers buzzing about what the loss means to President Obama's health care agenda.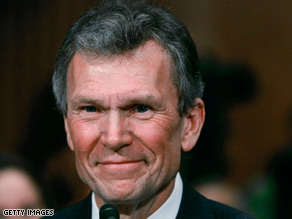 Former Sen. Tom Daschle's withdrawal may be a setback for the Obama administration's heath care agenda.
Daschle had been fighting to save his nomination after facing controversy regarding his tax records -- filing amended tax returns and paying more than $140,000 in back taxes and interest -- and questions over his work in a field that some consider lobbying.
Obama stood by Daschle's side despite the criticism until Tuesday when the former Senate majority leader formally withdrew his bid for HHS secretary. The president said he accepted Daschle's decision with "sadness and regret."
White House press secretary Robert Gibbs said the health care crunch is more important than any one politician.
"I don't think the effort for health care slows down, and I think Daschle and others would agree the effort for health care is greater than any individual," Gibbs said at a press briefing Tuesday.

Watch as Gibbs fields questions on Daschle's withdrawal »
But Senate Majority Leader Harry Reid, D-Nevada, said finding a new nominee quickly was imperative.
"You have 50 million people with no insurance, and we need to step forward on health care for the American people," Reid said.
Don't Miss
So how does the prospect of a sweeping health care overhaul look now that Daschle won't spearhead it?

Watch more of Reid's response »
Norman Ornstein of the American Enterprise Institute questions what the impact of a delay in finding a new HHS nominee will have on the administration's health care agenda.
"To bring in someone who is not a player as they make serious changes to the health care process through the stimulus package means that you're narrowing the window when you can actually make things happen," Ornstein said.
Analysts said Daschle brought three critical components to the table that will be hard to match:
One, he has a comprehensive knowledge of health care policy, including having co-written a book titled "Critical: What We Can Do About the Health-Care Crisis."

Watch analysts weigh in on Daschle's announcement »
Second, he has an inside knowledge of Capitol Hill. Daschle represented South Dakota in the House of Representatives for four terms, and he served in the Senate for three terms. He was the Senate majority leader from June 2001 to January 2003 and then the minority leader before losing his re-election bid in 2004.
And finally, Daschle would've had the president's ear, given his close relationship with Obama. Daschle endorsed Obama for the Democratic presidential nomination in February 2007 -- nearly 11 months before the first contest.
Observers said they believe the symbolism of Daschle's demise is a broad political setback for the president.

"What you're going to see from Republicans is that this is going to be another issue that has helped them unite, to stand behind one another and really talk about government excess and really call Barack Obama on the carpet for his campaign promise to bring accountability and change to Washington," said Mark Preston, CNN political editor.
And it's also a warning signal to Daschle's successor as HHS nominee. Ornstein said there are a lot of accomplished people in and out of Washington who look at this process and may think twice about the willingness to go through with it.
E-mail to a friend

CNN's Ed Hornick contributed to this report.
All About Thomas Daschle • Barack Obama