Editor's note: Campbell Brown anchors CNN's "Campbell Brown: No Bias, No Bull" at 8 p.m. ET Mondays through Fridays. She delivered this commentary during the "Cutting through the Bull" segment of Wednesday night's broadcast.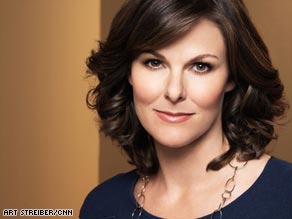 CNN's Campbell Brown says new CEO pay cap rules for companies taking bailout money lack real penalties.
(CNN) -- All this week, we're focusing on President Obama's promise of transparency and accountability and to that end, we applaud his announcement today of a pay cap for corporate CEO's taking bailout money.
But what we didn't hear anything about today -- as the president, Treasury Secretary Tim Geithner, and Press Secretary Robert Gibbs praised the virtues of the new rules -- was talk of penalties. Real penalties for those who have mishandled the money and betrayed our trust. Penalties for those who may mishandle our money in the future.
It's one thing to freeze pay, it's another to demand real accountability going forward. We weren't the only ones scratching our heads after today's announcement. The question was raised at the White House news briefing:
Chuck Todd, NBC chief White House correspondent: "That seems that the people the president called shameless last week are being allowed to go on honor system? What is the accountability? What is the teeth? What happens if they break rules? Do we yank the money back? Do we bankrupt the firms? Do we fire the executives?"
'No Bias, No Bull'
Get the latest on the day's main events.
8 ET Monday through Friday

Robert Gibbs, White House press secretary: "I'll get clarification from Treasury on that, but the beginning and end of these isn't just putting something on Web site."
Beyond getting clarification from the Treasury Department, Press Secretary Robert Gibbs didn't really have an answer. The White House argues putting a spotlight on the problem may be enough, but that just makes us wonder whether this is mostly a PR stunt.
Blowing bailout dollars on perks must be punished, just as if someone, or some company, committed tax fraud. An "honor system" is simply not enough here, not after the abysmal behavior of some in corporate America after we already loaned them one-half of a $700 billion lifeline.

As the president himself points out, transparency must come with accountability. We are still waiting to hear from him just what that means.
The opinions expressed in this commentary are solely those of Campbell Brown.
E-mail to a friend

All About Barack Obama