By Julian E. Zelizer
Special to CNN





Editor's note: Julian E. Zelizer is a professor of history and public affairs at Princeton University's Woodrow Wilson School. He is completing a book on the history of national security politics since World War II, to be published by Basic Books. Zelizer writes widely on current events. This was written before Tom Daschle's decision to withdraw from consideration for a Cabinet post.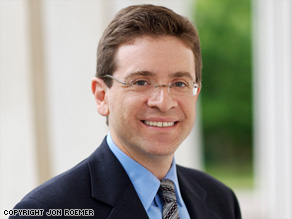 Julian Zelizer says Barack Obama's appointee problems are raising questions about his commitment to reform.
PRINCETON, New Jersey (CNN) -- The appointment process which started out so smoothly for President Obama has turned into a problem.
Several picks undermine Obama's campaign promise to change how Washington works.
The troika of Bill Richardson, Tom Daschle and Timothy Geithner raises questions about Obama's commitment to making government reform central to his presidency.
The news from these appointments has been disturbing for many Americans.
Supporters were surprised the investigation into Gov. Richardson's alleged pay-for-play schemes in New Mexico was not enough to call off his nomination as secretary of commerce -- but at least in that case the nomination was withdrawn.
Geithner, who was confirmed as Treasury Secretary, failed to pay his taxes while working at the International Monetary Fund. Though he claimed it was a technical oversight and recently paid the taxes, the story is hard for many Americans to swallow given that he was named to head the national tax system.
Certainly, Geithner's actions do not fit well with what Obama called in his inaugural address a "new era of responsibility."
Tom Daschle's appointment to head Health and Human Services was initially praised. But Daschle, we learned, never paid taxes for a limousine service provided to him by a prominent New York investor. In addition, reporters have documented his work for health-care interest groups. Daschle finally paid back taxes when his accountant raised the issue. [He withdrew his bid for the post Tuesday.]
Though the circumstances aren't the same, Obama should pay attention to what happened when Carter stood by his friend Bert Lance, a former president of the Calhoun First National Bank of Georgia and director of the Office of Management and Budget.
Don't Miss
Lance's investments became a subject in the Senate confirmation hearings. Nothing came of the stories, particularly after Lance promised he would sell his stocks in Georgia banks before dealing with any legislation related to banking.
In early summer 1977, Lance found that selling his stock would be a huge financial blow, not only to himself, but to the banks. He asked the president if he could place the stock in a blind trust so there would be no charges of impropriety and the stock could be sold in better market conditions.
As the Senate Government Affairs Committee considered the change, questions emerged in the press about alleged financial improprieties during Lance's time in Georgia, including a $3.4 million loan he received from the First National Bank of Chicago. The Senate nonetheless did not find anything wrong and approved Lance's request.
An investigation by the Comptroller of the Currency found Lance did nothing legally wrong, though some investigators said he had shown poor judgment on "unsound" practices. During a press conference, Carter turned to Lance and said "Bert, I'm proud of you."
Many advisers thought Carter had to take a stand and get rid of Lance. After all, Carter campaigned in 1976 by promising voters could trust him. He constantly differentiated himself from the corrupt practices that characterized Richard Nixon's administration.
Carter promised to uphold the highest ethical standards in presidential history and said his administration would not even give the appearance of impropriety.
But Carter refused to back down with Lance, insisting he was innocent, and standing by his friend.
Carter's defiant stand made him look suspect. There were some stories about Carter having consciously ignored these problems when he selected Lance. "The Watergate syndrome was still very much alive in Washington," Carter wrote in his memoirs.
He was unable to perceive how bad the stories looked to a public scarred from Watergate. August and September 1977 were consumed by stories about Lance and as a result the administration could not devote sufficient attention to the Middle East, the Salt II Treaty, and energy policy.
In mid-September, Lance appeared again before a Senate committee and more accusations emerged. Senators revealed Lance had used a corporate airplane to wine and dine customers and that some in his wife's family had written bad checks without consequences.
Time magazine concluded, "It was inevitable, of course, that the old memories of Johnson and Nixon surfaced. Though Carter's troubles were only a tiny fraction of those of the other two presidents, the pattern of response was distressingly familiar."
Lance finally resigned, realizing the damage that was being done. Carter, who enjoyed strong approval ratings in his first hundred days, accepted the resignation and suffered declining popularity.
Although Lance was later acquitted of wrongdoing in a trial that followed his resignation, Carter's presidency was never the same after the Lance controversy. The image Carter had carefully cultivated, so appealing to Americans in 1976, was impossible to restore.
President Obama needs to do some repair work. In June, Obama said:
"I know that in every campaign, politicians make promises about cleaning up Washington. And most times, you end up disappointed when it doesn't happen.
"So it's easy to become cynical -- to believe that change isn't possible; that the odds are too great; that this year is bound to be no different from the last. But I also know what I've seen and what I've done. I know that for me, reform isn't just the rhetoric of a campaign; it's been the cause of my career."
The appointments of the past few weeks threaten Obama's image as an agent of change. He needs to do more now to demonstrate his commitment to tightening the ethical standards of those who surround him and making sure these are the last stories we hear of members of the administration who have done wrong.
Once Congress passes an economic recovery bill, Obama should take this opportunity to propose sweeping ethics legislation -- as Carter did successfully in 1978 -- to make right what's gone wrong.
It is not clear legislation will fix the problem politically, as Carter continued to suffer as a result of the Lance investigation. But such legislation would offer powerful evidence to voters that Obama is truly committed to reform. More importantly, stricter control of tax rules, lobbying and campaign finance would bolster our democratic process.
The opinions expressed in this commentary are solely those of Julian Zelizer.
E-mail to a friend

All About Barack Obama • Jimmy Carter • Thomas Daschle