By Jared Polis
Special to CNN





Editor's note: Rep. Jared Polis, a Democrat, represents Colorado's Second District in Congress and is writing a regular series of reports for CNN.com on his freshman year. For his bio, read here. For a Republican's freshman's view, read here.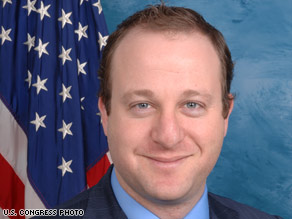 Jared Polis compares his first weeks in Congress to his early days in college.
WASHINGTON (CNN) -- How can I describe my first weeks in Congress? A whirlwind? A circus? No -- a trip back to college.
New members have a lottery for our rooms (offices). We "rush" for our committee assignments and elect a class president (Martin Heinrich of New Mexico).
We wander around aimlessly, clutching maps, trying to find our way around "campus." There are even intramural sports; I played baseball in high school and hope to join the congressional team.
And just like college, newbies are often lumped together and collectively, even mockingly, referred to as "The Freshmen." Some of the upper classman are a bit snooty and don't talk to us lowly fish, but others are friendly and eager to help.

Watch video of Polis experience as a freshman »
Although we had three freshman orientations, nothing could prepare us for the speed with which we would hit the ground running as soon as we took the oath of office.
On our first day, we passed legislation to help women fight wage discrimination. Since then, I've given my first floor speech, voted to help 11 million children have access to health care and wrote President Obama, asking him to consider ways to employ more women in the construction jobs that will be created with the economic stimulus bill.
The "floor" of the House, what you see on C-SPAN, is technically where the action happens, but really, we run our voting cards through a little meter, push a yes or no button, and chat about our vote. Much of the rest of our time is wasted, scurrying around between our offices, hearings, caucuses and back to the floor to vote.
Hours go by in what seems like seconds, and each day is filled with countless challenges and crises. It's a far cry from my former life.
Growing up in Southern California and Boulder, Colorado, as the son of a poet and a physicist turned artist, I never envisioned myself running for public office.
After an early and successful start in online business ventures, including Proflowers.com, I quickly came to realize the important role our children's education plays in the American economy.
With this in mind, I ran for the Colorado State Board of Education in 2000 and served as the youngest chair in the history of the board.
Don't Miss
After eight frustrating years of what I considered the Bush administration's flawed education policy, I decided to run for Congress and bring change to our nation's education system.
I won the Democratic primary and then the general election for the seat held by Mark Udall, who was running for the Senate. To date, I am the first openly gay male elected to Congress as a freshman.
One change I will never get used to is that everyone keeps calling me "congressman." It's ridiculous to hear someone shout "congressman" and watch each of the 435 members of Congress within earshot turn their heads. Seriously, for my sanity, just call me Jared.
Being from Colorado, I had been thinking I would be on the Natural Resources Committee, or maybe the Science and Technology Committee, and had been studying up on forestry, oceans and mining.
Then late one night, a senior member sat me down and asked whether I wanted to be on the Rules Committee. These days, I'm spending my free time furiously poring over a 1,200 page rules manual and having my staff quiz me with flashcards on member's home states and committee assignments.
The Rules Committee passes rules on everything: whether amendments are allowed, how long the debate shall last and who gets to offer amendments.
Imagine that in college, in addition to a professor who writes the test, there was also a rules committee that determined things such as whether the test is open or closed book, how long people have to take the test, whether it's graded on a curve or not.
This gives the committee an incredible amount of influence "inside the Beltway," as the pundits say, and I'm looking forward to learning to use my position on Rules as well as the Education Committee to do good things for my constituents.
To sum up my whirlwind first three weeks in Congress, I've:
• Been kissed by Gandalf (Sir Ian McKellen -- on stage, no less at the Human Rights Campaign Ball).
• Had my congressional ID pin accidentally stolen by fellow Freshman Rep. Tom Periello of Virginia.
• Hosted eight houseguests in our humble, one-bathroom abode on Capitol Hill for the inauguration.
• Participated in the greatest single outpouring of national pride and emotion our nation has ever seen.
• And gotten lost (repeatedly) in the labyrinthine passageways beneath the Capitol and House office buildings.

Being a member of Congress is a great job and an incredible honor, and I can't wait for what is to come.
The opinions expressed in this commentary are solely those of Jared Polis.
E-mail to a friend

All About U.S. Congressional News • Colorado • Education Policy