By Alexander Mooney
CNN






WASHINGTON (CNN) -- Sarah Palin has firmly remained in the media spotlight since her bid for the vice presidency ended four months ago, but the Alaska governor embraced a decidedly lower profile when she traveled to the nation's capital this weekend.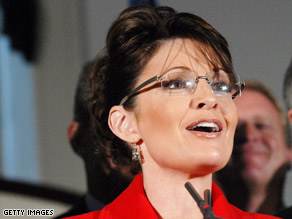 Alaska Governor Sarah Palin speaks at the meeting of the National Governor's Association in December.
The former Republican vice presidential candidate scheduled a busy itinerary of closed-door events and face time with congressional Democrats and Republicans.
She also announced earlier this week she's making the 4,500-mile trek from Alaska to Washington primarily to attend the Alfalfa Club Dinner Saturday night -- an annual closed-door roast of the nation's political elite.
But it's what's missing from Palin's schedule that is causing more than a few heads to turn. In a city that is ground-zero for national political journalists, Palin has not scheduled a single media interview or indicated she will hold a press conference. She also brushed past reporters without making any comments Saturday as she entered the Alfalfa Club Dinner.
"She has requested we do not schedule any interviews for her," said Bill McAllister, Palin's communications director. Instead, McAllister said, Palin is traveling to Washington to lobby senators to approve certain infrastructure projects for Alaska in the economic stimulus package.
The move is an unusual one for the high-profile governor, especially one believed to have presidential ambitions, on a visit to Washington, a city where most politicians come to gain a piece of the media spotlight rather than avoid it.
The decision to avoid cameras also appears to be a marked departure from Palin's media strategy over the nearly 90 days since the presidential campaign ended. In that time, she granted a number of sit-down interviews with prominent television hosts, magazines and conservative journalists.
Political analysts noted that Palin appeared to adopt a largely adversarial relationship with the national media; using her interviews to criticize what she perceived as unequal and unfair coverage over the course of the presidential campaign.
Analysts speculated that a media-bashing strategy could be an attempt to drum up support from the rank-and-file conservatives with whom she was popular during the campaign.
Palin was in the national headlines to such an extent that she faced criticism from some members of her own party, both publicly and privately, who said she was overexposing herself and potentially endangering her chances of being a credible presidential candidate in 2012 should she decide to run, analysts said.
"When she's out in public still, at this point, she might do more damage than good, both for the GOP and for herself," said Julian Zelizer, a professor of history and public affairs at Princeton University.
Instead, many Republicans said, Palin should retreat from the national spotlight and work on quietly strengthening her resume as a state executive while slowly building credibility among the Republican elite behind the scenes.
"She needs to demonstrate growth as a politician, as a political leader," Alex Castellanos, a Republican strategist and CNN contributor, said as Palin dominated the headlines. "You can't do that if you keep staying in front of us day after day after day as the same person."
By all outward accounts, it's a message Palin has heard loud and clear.
Last week, Palin established a political action committee -- the traditional vehicle potential White House aspirants use to raise cash, support fellow party candidates and quietly establish groundwork for a presidential run.
The low-profile trip to Washington appears to be a continuation of efforts to gain credibility within the party for Palin, who openly acknowledged she's more interested in getting face time with President Obama and powerful senators from both parties than talking to high-profile journalists.
Ultimately though, Palin must negotiate a treacherous path in her approach to the media, opening herself up to criticism if she appears either too confrontational toward national reporters or too reticent.
Speaking briefly to Alaska reporters earlier this week, Palin said participating in public events and media interviews outside her state is not her priority.
"I do receive, our office receives, hundreds if not thousands of requests to either speak or participate in something," she said. "We turn them down for the most part. We say no, I'm not going to leave Alaska or I'll rarely travel outside of Alaska."
The Alfalfa Club dinner is the ultimate venerable gathering of elite politicians, but it has become an especially big draw this year, because White House sources have confirmed Obama is slated to attend.
Palin's office also said she had plans to participate in a number of other nonpartisan functions while she's in Washington over the weekend, including a private dinner Friday night at the residence of prominent businessman and former Republican operative Fred Malek.
A number of Republican and Democratic senators are also on the guest list for that event, including Sen. Diane Feinstein, D-California, and Senate Minority Leader Mitch McConnell, R-Kentucky.
Palin also planned to take part in a luncheon Saturday at the Center for Strategic and International Studies, a foreign policy think tank.
"She came into the campaign as the maverick, as the person outside the establishment," Zelizer said. "What she really needs to do now is build her credentials with the establishment. Right now, the goal is not to build her support with the grassroots, it's to build her support inside the beltway."
E-mail to a friend

All About Sarah Palin • Republican Party