WASHINGTON (CNN) -- President Obama visited the Pentagon Wednesday for a dose of "unvarnished" give-and-take on how to move forward in America's two wars.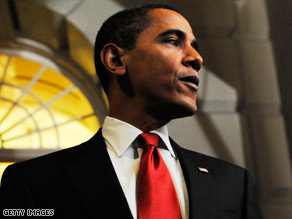 President Obama wants more emphasis on the fight against the Taliban and al Qaeda in Afghanistan.
Obama sat down with Defense Secretary Robert Gates and the Joint Chiefs of Staff to get what the White House called a "comprehensive view of the situation in Iraq and Afghanistan and the impact on our forces."
Obama first expressed his thanks for the men and women fighting abroad.
"As commander-in-chief, one of my principal goals during my presidency is going to be to make sure that they have the resources and the support that they need to carry out the critical missions that keep our nation safe each and every day," he said.

Watch Obama thank the Joint Chiefs »
The administration plans to decrease troop deployment in Iraq and focus on the fight against the Taliban and al Qaeda in Afghanistan, an environment that Adm. Michael Mullen, the head of the Joint Chiefs, said "grows increasingly perilous every day."
"We're going to have some difficult decisions that we're going to have to make surrounding Iraq and Afghanistan," Obama said at the Pentagon. "Most immediately, obviously, our efforts to continue to go after extremist organizations that would do harm to the homeland is uppermost on our minds."
Obama also pledged to make sure the military is adequately supported in its missions.
"We have for a long time put enormous pressure on our military to carry out a whole set of missions, sometimes not with the sort of strategic support and the use of all aspects of American power to make sure that they're not carrying the full load," he said. "And that's something that I spoke with the chiefs about and that I intend to -- to change as president of the United States."
White House spokesman Robert Gibbs told reporters Tuesday that the briefings are part of a process initiated by Gates.
Gates wants to put Obama "in front of all the people that are involved in these decisions and all the people that are involved in committing the lives of men and women in our uniform so that the president can get all this advice in an unvarnished way," Gibbs said.
The Pentagon meeting follows a session last week between Obama, Central Command Chief David Petraeus and Gen. Raymond Odierno, the top U.S. commander in Iraq.
The Bush administration set the stage for U.S. troop departures in Iraq when a bilateral security agreement was forged. It calls for the removal of all troops by the end of 2011. At present, there are around 142,000 troops in Iraq, and Obama has touted a plan to withdraw combat troops from Iraq in 16 months -- by May 2010.
How that will incrementally unfold is unclear. Commanders, though, have cautioned Obama against precipitous withdrawals, saying that while violence has dropped there, security conditions remain fragile.
In fact, the military is preparing options on how to redeploy and utilize American troops based in Iraq, where nationwide provincial elections Saturday represent a test for the country's security forces and a prediction of its political shape.
"As our military presence decreases over time, we should still expect to be involved in Iraq on some level for many years to come -- assuming a sovereign Iraq continues to seek our partnership," Gates told senators at a hearing Tuesday.

Watch more of Gates' testimony before Congress »
At that hearing, before the Senate Armed Services Committee, Gates echoed the administration's focus on Afghanistan, where Taliban militants have been making inroads.
"There is little doubt that our greatest military challenge right now is Afghanistan," he told senators.
Gates said the mission in Afghanistan "is going to be a long slog," and "we need to be very careful about the nature of the goals we set for ourselves."
He said the primary goal must be preventing Afghanistan from being "a base for terrorists and extremists to attack the United States and our allies."
Afghanistan is one of the poorest countries in the world, Gates said, and "if we set ourselves the objective of creating some sort of Central Asian Valhalla over there, we will lose, because nobody in the world has that kind of time, patience or money, to be honest."
There are around 36,000 U.S. troops on the ground in Afghanistan, and the Pentagon wants to nearly double the number. Gates told lawmakers Tuesday that he expects to send up to three additional combat brigades -- 15,000 to 20,000 troops -- to Afghanistan.
A senior administration official confirmed that Richard Holbrooke, the president's special envoy to Afghanistan and Pakistan, is expected to travel to the region soon.

In a briefing to foreign reporters Tuesday in Washington, Mullen emphasized that the priority for the United States is the conflict in Afghanistan and neighboring Pakistan, where Taliban militants and the al Qaeda terror network have a presence.
"Suicide and IED attacks are up, some say as much as 40 percent over the last year. The Taliban grows bolder, implanting fear and intimidating the Afghan people, and the flow of militants across the border with Pakistan continues."
E-mail to a friend

All About Barack Obama • The Pentagon • Robert Gates