TEHRAN, Iran (CNN) -- Iranian President Mahmoud Ahmadinejad said Wednesday that he welcomes the kind of change U.S. President Barack Obama offered in an interview with an Arab-language television network.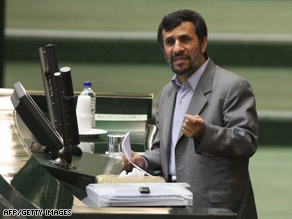 Iranian leader Mahmoud Ahmadinejad, seen Tuesday, said of the U.S. "We will listen carefully to their words."
"If changes happens, we will welcome such an endeavor," Ahmadinejad told a crowd of thousands in a speech broadcast on national television from the western region of Khermenshah.
"We welcome change, but providing change is fundamental and is in the correct direction."
In Tuesday's interview with Al-Arabiya, Obama said his administration will offer a hand of friendship to the Muslim world.
"My job ... is to communicate that the Americans are not your enemy," Obama said. "We sometimes make mistakes. We have not been perfect."
Obama addressed Iran specifically, prefacing his remarks with "Iranian people are a great people," but adding "Iran has acted in ways that are not conducive to peace and prosperity in the region."
He listed the U.S. objects to Iran's "threats to Israel, pursuit of a nuclear weapon ... and support of terrorist groups in the past." Still, Obama said, "I do think it is important to talk to Iran" about differences.
Don't Miss
Ahmadinejad said the United States has a lot to apologize for, beginning with a 1953 coup engineered by British and U.S. intelligence services that returned Shah Mohammad Reza Pahlavi to power, and continuing with the Iran-Iraq war and America's opposition to Iran's nuclear program.
"If certain parties want to bring about change, change entails for them to apologize to the Iranian people and try to make amends for their blackened history, their past record, the atrocities they have committed against the Iranian people," Ahmadinejad said.
He also called on the United States to end its support of Israel. Obama said in his interview that the U.S. will continue to be a strong ally with Israel.

Watch how the Arab world is reacting to Obama's overtures »
Ahmadinejad said Iran will keep a watchful eye on the new U.S. administration.
"We ... will remain patient for their comments and we will listen carefully to their words and we will monitor their actions," he said.
In his run for the White House, Obama pledged to improve ties with the Muslim world, draw down U.S. troops in Iraq and close the Guantanamo Bay detention camp.

"If countries, like Iran, are willing to unclench their fists," the U.S. will extend a hand of friendship, Obama said in the interview, reiterating a line from his inaugural address.

Watch a report on al-Arabiya's Obama interview scoop »
The president also has pledged to address the Muslim world from a Muslim capital in the first 100 days of his administration. No location was announced.
E-mail to a friend

All About Iran • Barack Obama • Mahmoud Ahmadinejad