(CNN) -- President Obama meets with House and Senate Republicans on Tuesday for talks that could give some indication of how much bipartisan spirit exists in support of efforts to tackle the country's economic crisis.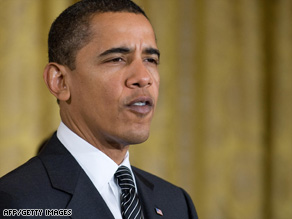 Barack Obama is meeting with Republican lawmakers as he tries to get support for his stimulus package.
Obama is hoping to rally support for his $825 billion stimulus package on the eve of a crucial House vote.
Republicans have expressed reservations about the proposal, calling for more tax cuts and less spending.
Republican representatives going into the meeting with Obama seemed doubtful that any deals would be made, CNN's Dana Bash reported.
Asked if he was excited about the meeting, one Republican congressman replied, "You mean the photo op?"
Coming out of the meeting, House members said Obama seemed genuine in his efforts to reach across the aisle, but they had less confidence in their Democratic colleagues.
"As grateful as we are for the president's spirit, as I told him personally, House Democrats have completely ignored the president's call for bipartisan cooperation," said Indiana Rep. Mike Pence, chairman of the House Republican Conference.
"The bill that is scheduled to come to the floor this week will come to the floor without any consultation among House Republicans and with categorical opposition to the kind of Republican solutions that we believe are necessary to truly get this economy moving again," he said.
Don't Miss
The Democratic majorities in both chambers make passage of the plan likely, but the Obama team doesn't want it to look as though there are no Republicans on board.
"This is a critical first test for President Obama," said CNN Political Editor Mark Preston. "During the campaign, he spoke at length about ending partisanship in Washington and reaching across party lines to get things accomplished. Now he has a chance, by listening to their concerns about tax cuts."
The bill the House will vote on includes $550 billion in spending and aid to states and $275 billion in tax cuts.
Democratic strategist Jaime Harrison says the tax cuts already in the proposal are one example of an "olive branch" to the GOP.
"This package is a package of a lot of different things -- of tax cuts and also investments and the infrastructure of this country. And so it's all about employing folks and then giving tax breaks to the hardworking American folks," he said.

Watch more on Obama's stimulus sell »
Obama has had to do some negotiating with Democrats, too. The president has been hands-on in shaping the stimulus package, urging his fellow Democrats to take out provisions he feels are unnecessary and controversial, according to a senior administration official. iReport.com: What should Obama do first?
Republicans point to appropriations like $50 million for the National Endowment for the Arts, $20 million for sodding the National Mall, $400 million for climate change research and $200 million for contraception programs as "longstanding liberal spending priorities," according to Pence.
Congressional leaders are now dropping the provision that would have provided $200 million worth of contraceptives to low-income families, according to a senior administration official and a Democratic official on Capitol Hill.
The officials said the move is aimed at trying to win bipartisan support for the bill amid Republican charges that it is full of wasteful provisions that will not stimulate the economy.
The provision would have removed a requirement that states seek permission from the federal government to provide family planning services for Medicaid recipients.
An Obama aide said the president personally called House Democratic leaders to urge them to remove the family planning provision.
One of those calls was to Rep. Henry Waxman, D-California. Waxman is the chairman of the Committee on Oversight and Government Reform and one of the most influential liberal members in the House.
The Obama aide said the president urged Waxman and other Democrats to take out the provision because it was a hot button issue among Republicans and did not focus on the mandate of creating jobs as quickly as possible.
But the bill put together by House Democrats doesn't include everything Obama wanted. Negotiators dropped a $3,000-per-hire tax credit that Obama proposed to provide incentives for employers to create jobs in the United States, among other changes.
"It's just the old spending practices of liberal Democrats. So I hope we will be able to sit down and negotiate, but right now I cannot vote for the stimulus package, as it's been presented," said Sen. John McCain, R-Arizona.
Republicans are aware that Obama's approval rating is in the 70s, and they know it will be difficult for them to stop him from collecting wins early on in his presidency, Preston said.
"But that doesn't mean they are going to lie down and let him run over them. Republicans can't abandon their principles. The midterm elections are right around the corner and the GOP must show their willingness to work with the president on some issues and hold their ground on others," he said.
Republican strategist Ron Christie says the stimulus plan will likely pass in the House without any real Republican opposition, but the Senate will be where Republicans can have an influence in shaping the package. A full House vote is expected Wednesday; key Senate committees will debate and vote on the Senate version of the bill Tuesday.

"Republicans are very concerned about the size of the spending," Christie said. "We want to make sure that we are stimulative as possible, but the government doesn't prolong this recession by increasing spending, raising taxes and otherwise hindering economic development."
The president hopes to have the plan passed by Congress and on his desk for signing by mid-February.
E-mail to a friend

CNN's Ed Henry and Suzanne Malveaux and CNNMoney's Jeanne Sahadi contributed to this report.
All About Barack Obama • U.S. House of Representatives