By Jack Cafferty
CNN





Editor's Note: Jack Cafferty is the author of a new book, "Now or Never: Getting Down to the Business of Saving Our American Dream," to be published in March. He provides commentary on CNN's "The Situation Room" daily from 4 p.m.-7 p.m. You can also visit Jack's Cafferty File blog.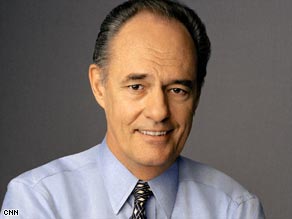 Jack Cafferty says Barack Obama learned a few things during his first days in office.
NEW YORK (CNN) -- I wonder if President Obama is having second thoughts.
He spent three full days in office last week and in those 72 hours discovered a few things. The press room is where the press is, and if you don't want the press to ask you questions, don't go there.
If you're going to ban lobbyists from working for you, you have to ban the one who used to lobby for Raytheon from working in your defense department as well.
If you're going to close Guantanamo, you have to have a plan for what to do with the inmates there. A couple of former ones have turned up in recent al Qaeda videos.
You can't overturn President Bush's executive order banning abortion funding for charitable groups overseas without incurring the wrath of anti-abortion groups in this country.
Don't Miss
Picking a fight with that corpulent Oxycontin aficionado of right wing talk radio, Rush Limbaugh, will mobilize a bunch more on the conservative right and begin to bring those approval ratings down from 83 percent, where they were before you actually started working as the president, to a more mortal 68 percent in the Gallup Poll taken on those first three days in office.
Sour grapes Limbaugh seems to be having trouble coming to terms with the fact that all the stuff he embraced so fervently during the eight years of the Bush nightmare got swept out the door in November. Limbaugh disagrees with Obama's policies and fears he could take the country in the direction of socialism.
Fair enough -- but to come right out and say "I want him to fail," exposes Limbaugh for the petulant, shallow gasbag that he is.
In December, Colin Powell, who was himself a member of the Bush administration who switched parties and supported Obama, suggested that people need to stop listening to Rush Limbaugh. Does he really add anything to the national dialogue by wishing failure on our newly inaugurated president?
iReport.com: What should Obama do first?
Let me help you there, the answer is no. And in case Limbaugh hasn't noticed, our country is failing thanks to the misguided policies of the right-wing nuts that have called the shots for the last eight years.
Still, it's probably not a good idea for the president to respond to Limbaugh by name and inflate the talk show host's air of self-importance.
The stimulus package is not going to be a walk in the park either. Republicans are yelling it's too costly and doesn't stimulate enough. And they might have point. It's at $825 billion now and could go higher. Hundreds of millions for condoms and other contraceptives doesn't belong in there either, unless it's for what's about to happen to the American taxpayer.
Remember how much fun it was when you won the Iowa caucus?
The opinions expressed in this commentary are solely those of Jack Cafferty.
E-mail to a friend

All About Barack Obama • Rush Limbaugh • Economic Policy